Cationic antimicrobial peptide, magainin down-regulates secretion of pro-inflammatory cytokines by early placental cytotrophoblasts
Reproductive Biology and Endocrinology
2015
13:121
Received: 16 July 2015
Accepted: 2 November 2015
Published: 6 November 2015
Abstract
Background
Human placental villous cytotrophoblasts exhibit relative externalization of negatively charged moieties to the outer leaflet of the plasma membrane during the time of syncytialization rendering their reactivity to positively charged cationic antimicrobial peptides (CAMPs) during the window of implantation and early placentation. Vaginal administration of a synthetic CAMP, Ala8,13,18-magainin II amide (AMA) inhibited blastocyst implantation and early placentation in monkeys. Furthermore, the administration of AMA resulted in significant inhibition of cell differentiation, enhancement in apoptosis and loss of viability in first trimester placental villous cytotrophoblasts in primary culture. The present study examines the effect of in vitro application of different doses (0, 1, 10, 100, 1000 ng/ml) of AMA on the secreted cytokine profiles of cytotrophoblasts obtained from placental villi samples (n = 13) collected during 8–9 weeks of gestation and grown on three-dimensional collagen matrix in vitro.
Methods
A panel of forty-eight (48) cytokines in conditioned medium was analysed using multiplex immunoassays technique. Further, the steady state transcript levels of four cytokines (CCL4, CCL5, IL1B, IL6), the concentrations of which were affected by AMA in the isolated cytotrophoblasts, as well as, two cytokines (IL1A and TNF) which were not affected by AMA were estimated. Input list of cytokines secreted by cytotrophoblasts and showing differential secretion in response to AMA were used in enrichment analysis for the generation of biological networks.
Results
Placental cytotrophoblasts secreted 27 cytokines, 13 of which are affected by AMA in vitro with significantly decreased secretion of CCLs-2, 3, 4, 5, CXCLs-1 and 8, FGF2 and MCSF and that of IL1B, IL6 and MIF, and increased secretion of IL16 and IL-2RA. Of the above cytokines showing differential secretion, only IL-2RA, IL16 and MIF showed significant correspondence in the steady state expression of their respective transcript levels. Post-hoc Enrichment analysis revealed Toll-like receptor (TLR) mediated pathways were the top-scored target pathways that were affected by AMA.
Conclusions
Administration of a CAMP causes shift in the balance of immune-inflammatory responses involving downstream pathways of TLRs in cytotrophoblast function. Further verification of functions of placental trophoblasts on administration of CAMP with pregnancy outcome is necessary.
Keywords
Cationic antimicrobial peptideCytokinesCytotrophoblastsEarly placentaInflammatory responseMagainin
Background
Cationic antimicrobial peptides (CAMPs) are gene-encoded short chain peptides (10–50 amino acids) having an overall positive charge due to the presence of positively charged amino acids namely lysine, arginine and histidine. CAMPs contribute to body's innate immune response and are evolutionarily conserved. These peptides are broad-spectrum antibiotics as they impart effective antagonistic action on gram-positive and gram-negative bacteria, protozoa and fungi [1]. Positively charged CAMPs interact with negatively charged bacterial cell membrane by electrostatic force of attraction, which is followed by pore formation in the membrane and irreversible membrane disruption followed by cell death [2, 3]. On the other hand, CAMPs normally show lower affinity towards the mammalian cell membrane because of differences in its composition, characterized by the presence of quantitatively lesser aggregation of negatively charged phospholipids in the outer cell membrane leaflet, and relative abundance of cholesterol as compared to that of bacterial cell membrane [4]. Additionally, transmembrane potential of bacterial cell membrane is more polarized to net negativity as compared to the mammalian cell membrane [5]. However, human placental villous cytotrophoblasts exhibit relative externalization of negatively charged moieties to the outer leaflet of the plasma membrane during the time of syncytialization, thus rendering themselves to be reactive to the positive charged CAMPs during the window of implantation [6]. Thus, there is a need for understanding the action of CAMPs in the process of placentation, as CAMPs appear to be promising in meeting the need for new antibiotics.
Ala8,13,18-magainin II amide (AMA) is a synthetic alpha-helical CAMP and it is modified from natural Magainin II obtained from African frog, Xenopus leavis. Magainin II bears significantly high anti-microbial activity [7]. Furthermore, replacement of three amino acid residues, namely one serine at position 8 and two glycine residues at positions 13 and 18, respectively with alanine renders an enhanced antimicrobial activity in AMA [8]. Additionally, amidation of its terminal amino acid makes its alpha-helical conformation stabilized and lowers its susceptibility to exopeptidase action [8]. It shows chemical properties that are very similar to that of human alpha-helical CAMP, cathelicidin peptide LL-37 [1]. We have earlier demonstrated using AMA that CAMPs may exert deleterious action on placental cytotrophoblasts during blastocyst implantation and early placentation [9–12], however, the underlying process is not known. In the present study, we proposed to examine the effect of application of a synthetic CAMP on the secreted cytokine profiles of human early placental villous cytotrophoblasts in vitro. In order to fulfill the projected objective of the study, isolated villous cytotrophoblasts from human placental villi collected during 8–9 weeks of gestation were maintained in primary culture and exposed to different doses of AMA to simultaneously examine a panel of forty-eight (48) cytokines in conditioned medium using multiplex immunoassays technique [13, 14]. Finally, we have examined the steady state transcript levels of the candidate cyto/chemokines, the concentrations of which were affected by AMA to examine the probable level of action of AMA on the isolated cytotrophoblasts.
Methods
Tissue samples and chemicals
Human placental samples (n = 13) were obtained from women (age: 22–35 years) undergoing elective surgical termination of singleton pregnancy between 8 and 9 weeks of gestation (timed from last menstrual period) without undergoing any prior medication. All women provided their written informed consents. The Ethics Committee of the All India Institute of Medical Sciences approved the research study. Placental samples were collected in sterile ice-cold phosphate buffered saline (PBS, pH 7.4) and transported on ice to the laboratory within 10 min after collection for further processing. The chemicals were obtained from Sigma Chemical Co. (St. Louis, MO, USA), if otherwise is not stated.
Isolation of placental villous trophoblast cells
Cytotrophoblasts were isolated from freshly collected placental villi as described previously [11, 12, 15]. Briefly, villous tissues (~3 g) were dissected from chorionic membranes and washed with sterile cold Ca2+/Mg2+ free PBS (pH 7.4) containing gentamycin (50 μg/ml) and D-glucose (1 mg/ml). Placental tissues were incubated in an enzyme mixture [0.25 % (w/v) trypsin, 0.02 % (w/v) deoxyribonuclease type-I (DNase I), 15 mM HEPES, 5 mM magnesium sulphate, penicillin (100 IU/ml), streptomycin (100 μg/ml) and amphotericin B (2.5 μg/ml)] at 37 °C initially for 30 min and then for another three cycles of 10 min each. Cell suspension was passed through a pre-equilibrated mesh filter (pore size 60 μm) to remove cellular debris. The filtrate was subjected to enrichment on a preformed 10 to 70 % Percoll gradient at 800× g for 20 min at 20 °C. The mononuclear cells were immunopurified by depletion of CD45-positive leucocytes using MACS microbeads conjugated with monoclonal mouse antibody against CD45 and magnetic separation columns type LS in combination with a MidiMACS separator (Miltenyi Biotec, Bergisch Gladbach, Germany) [11, 12]. The negative fraction containing an enriched villous trophoblast cell population was collected and immunocharacterised for cytokeratin 7 (CK-7), βhCG, vitronectin receptor (CD51), vimentin (Vim) and von Willebrand factor (vWF) as described below.
Cell culture
The methodological details of cytotrophoblast culture have been detailed previously [12]. Briefly, isolated mononucleated cytotrophoblast cells were plated at a density of 1 × 105/cm2 on rat-tail collagen I and cultured at 37 °C in a humidified air atmosphere of 5 % CO2 and in complete medium [DMEM: F12 (1:1), 10 % (v/v) fetal calf serum, penicillin (100 IU/ml), streptomycin (100 μg/ml), amphotericin B (2.5 μg/ml)] for 24 h to allow for their attachment to collagen. Subsequently, the cells were maintained in serum-free medium with antibiotics and antimycotics as described above and supplemented with insulin (5 μg/ml), transferrin (5 μg/ml), selenium (5 ng/ml) and hydrocortisone (0.5 μg/ml). The same pools of cells were treated in triplicates without or with AMA at different doses (1, 10, 100 and 1000 ng/ml) based on our previous observation that AMA at these concentrations affected synthetic capacity for hCG and hPL without affecting the viability of the target cells at 24 h in primary culture [11, 12]. Cells were harvested at 24 h to obtain cells for immunocytochemical characterisation of cells and RNA extraction, and conditioned medium for immunoassays and immunoblot experiments as described below.
Multiplex assays of cytokines in conditioned media
The details of 48 cytokines, chemokines and growth factors have been reported elsewhere [13, 14] and are shown in Additional file 1: Table S1. Cell culture supernatants were assessed by quantitative cytokine assays using a Bioplex™ Pro-human cytokine 27-plex panel and a cytokine 21-plex panel based on xMAP technology (Bio-Rad Laboratory, Hercules, CA, USA) according to the pre-optimised protocol as described earlier [13, 14]. Briefly, antibody–conjugated beads were added to individual wells of a 96-well filter plate and adhered using vacuum filtration. After washing, 50 μl of prediluted standards or conditioned media were added, and the filter plate was shaken at 300 rpm for 30 min at room temperature. A prediluted multiplex biotin-conjugated detection antibody was then added for 30 min. Prediluted streptavidin-conjugated phycoerythrin was added followed by an additional wash and the addition of Bio-Plex assay buffer. The filter plate was analysed, and concentrations of each cytokine were determined using the Bio-Rad Bio-Plex 200 instrument equipped with BioManager v6.0 software (Bio-Rad). All samples in triplicates were assayed in a single run. Standard curves were generated for each biomarker. Goodness of fit for standard curves was determined by the standard recovery method and by calculating the concentration of each standard [16]. The intra-assay variations were less than 10 %. Only those cytokines were selected that could be detected at ≥0.1 pg/mg Bradford protein in at least 80 % of cultures.
Immunocytochemistry
After termination of culture at 24 h, cells treated with and without AMA (1000 ng/ml) were subjected to immunofluorescent staining using antibodies against cytokeratin 7 (CK-7), βhCG, vitronectin receptor (CD51), vimentin (Vim) and vWF (see Additional file 2: Table S2 for details of the antibodies used) to check the purity of the cells using samples (n = 5) in duplicates for both treatment groups as described earlier [12]. It was assumed that the purity of cells treated with other concentrations (1, 10 and 100 ng/ml) of AMA would be similar. Appropriate fluorochrome-conjugated secondary antibodies (Molecular Probes, Grand Island, NY, USA) were used for visualization. Specificity of the antibody binding was assessed by omitting primary antibodies, immunoadsorption of primary antibodies with target antigens, replacing primary antibodies with unrelated IgG from same species and other species, omitting secondary antibodies, and replacing secondary antibodies with unrelated IgGs from same or other species in parallel cultures.
Western blotting
Based on the post-hoc analysis of the immunoassays as described below, two (2) proteins - CCL4 (MIP1B) and TNF - were chosen to assess their expressions in conditioned medium by employing Western immunoblot technique as secretion of CCL4 was affected, while TNF was both very low in medium and was not affected in isolated cytotrophoblasts following application of AMA in vitro. The methodological details have been described elsewhere [12, 13]. After termination, conditioned medium obtained from cultures with cells treated without (Control, +cells) and with 1000 ng/ml AMA (AMA, +cells), as well as, unconditioned medium containing 1000 ng/ml AMA (Control, −cells) from different sets (n = 3) of experiments were subjected to Western immunoblot using antibodies against CCL4 and TNF (see Additional file 2: Table S2 for details of the antibodies) as described earlier [12, 13]. Briefly, 20 μg Bradford protein for each sample and the pre-stained molecular weight markers were separated by SDS-PAGE and subsequent Western immunoblotting techniques were done using nitrocellulose membranes and chemicals obtained from Bio-Rad (Hercules, CA, USA). Final visualisation was achieved using Vectastain ABC immunoperoxidase kits (Vector Laboratories, Burlingame, CA, USA). Respective primary and secondary antibody controls were run simultaneously to examine the specificity of the antibodies. The molecular weights and semi-quantitative analysis of the bands were determined using densitometric equipment (Pharos FX Plus Molecular Imager) and optimised densitometric analysis software (Quantity One) from Bio-Rad (Hercules, CA, USA). The measures of optical densities were performed from the log of inverse of transmittance for each target antigen and that of total stained bands as total secreted protein from 20 μg Bradford protein. The measures of optical densities for individual immunopositive antigens were calculated as per cent of total integrated optical densities [17].
Quantitative real time RT-PCR
The relative expression of nine (9) genes of reported cytokines, four (CCL4, CCL5, IL1B, IL6) of which showed reduced, two (IL1A and TNF) of which did not show any change and two (IL-2RA and IL16) of which showed increased secretion following application of AMA to the cytotrophoblasts were selected as targets from the post-hoc analysis (as described below) of the Bio-Plex cytokine data. All samples were assessed using SYBR Green-based quantitative RT-PCR protocol according to MIQE guidelines using two most consistently expressed house-keeping genes, namely glyceraldehyde 3-phosphate dehydrogenase (GAPDH) and ubiquitin C (UBC) as endogenous controls. The cells treated without and with 1000 ng/ml AMA (n = 5/each) yielding consistent secretory profile were employed in this experiment as most significant results were obtained between these two groups. Thus, the chosen five samples were a subset of original thirteen samples. The methodological details were given elsewhere [18]. Briefly, total RNA was extracted using Trizol (Agilent Technologies Singapore Pvt. Ltd., Shung Avenue, Singapore), purified with DNase I and subjected to re-extraction when necessary. The yield and purity of the extracted RNA were verified using standard spectrophotometric methods and 1 % agarose gel electrophoresis. Furthermore, the RIN score of individual samples was determined using the Agilent 2100 Bioanalyzer, RNA 6000 NanoLabChip kit and Agilent 2100 Expert Software (Agilent Technologies, Inc., Santa Clara, CA, USA). The samples yielded sufficient amounts of RNA and an acceptable RIN score (>8.0) and those RNA samples were used for the experiment. For the real time RT-PCR, the first-strand cDNA was synthesised from 2 μg of total RNA with an optimised RevertAid™ First Strand cDNA Synthesis Kit (Fermentas, Germany), and the PCR was performed using SYBR Green/Fluorescein qPCR Master Mix (Bio-Rad) and forward and reverse primers for the respective genes.
The primers for the target genes were designed using Beacon Designer software (Premier Biosoft, Palo Alto, CA, USA) as shown in Additional file 3: Table S3 and obtained from Integrated DNA Technologies (Coralville, IA, USA). The reaction was performed on a CFX Real time PCR system from Bio-Rad using an optimised protocol [19, 20]. Cycle threshold (Ct) values were obtained, and ΔΔCt values for the experimental and control samples were determined. The relative expression ratios between groups from cycle threshold (Ct) values were determined as described elsewhere [19, 20].
Data analysis
The quantitative values of factors in medium and transcripts in cells from each culture group with different doses of AMA were log transformed and analysed using the one-way analysis of variance followed by the Tukey's test and Student's t-test, respectively. Linear regression was done from individual values for obtaining dose dependent profiles for twelve (12) cytokines that appeared important in post-hoc analysis. All statistical analyses were done using SPSS v10.0 (SPSS Inc., CA, USA). Significant changes were derived for each bin showing P < 0.05.
Enrichment analysis
For post hoc enrichment analysis, candidate cyto/chemokines products were matched with known products into functional ontologies for 'common', 'similar' and 'unique' sets. The probability of a random intersection between a candidate on the target list and ontology entities was estimated in terms of p-values. A lower p-value meant higher relevance of the entity to the data set due to a higher rating for the entity. Enrichment analyses were performed using a cut-off threshold (pFDR(p) = 0.05) for the secretory cytokines secreted and showing differential secretion in response to AMA in order to identify the enriched biological pathways and networks. The Analyze Networks (AN) algorithm with default settings was used to retrieve interaction networks that were potentially influenced by AMA. The enrichment analysis and network constructions were achieved using a Metacore bioinformatics platform (GeneGO, St. Joseph, MI, USA) [13, 19, 20].
Results
The cell yield was ~3 × 10
6
cells/g wet weight of placental villous tissue with cell viability in trypan blue exclusion method being more than 92 %. As shown in Fig.
1
, these cells were consistently immunopositive for cytokeratin 7 (CK-7, 95 ± 2 %) and βhCG (91 ± 4 %) and negative for vitronectin receptor (CD51; 91 ± 5 %), vimentin (Vim; 98 ± 1 %) and vWF (99 ± 1 %) with overall viability more than 90 % with no significant difference among treatment groups at the time of experiment.

Discussion
The natural interaction between embryonic trophoblasts and maternal uterine cells during blastocyst implantation and placentation involves several cytokines; the underlying process in many ways is physiognomonic of an inflammatory state [
21
,
22
]. It is generally considered that cytokines are produced by immune competent cells. However, it now appears that various pro- and anti-inflammatory cytokines are also synthesized and secreted by placental trophoblasts [
23
,
24
]. The results of the present study, in which we have used a panel of 48 cytokines, chemokines and growth factors, indeed substantiates and widens our information in this regard. The observations from the present study that human villous cytotrophoblasts isolated from first trimester placental villi and grown on collagen biomatrix elaborated 27 cytokines reportedly involved in various cellular physiology and pathology [
25
–
28
], and that secretion of thirteen (13) out of 27 cytokines were affected by a model synthetic cationic antimicrobial peptide (CAMP), i.e., AMA along with previous reports [
21
,
23
,
24
,
29
,
30
] open up a new vista for further investigation into the possible impact of CAMPs on first trimester placental biology [
31
,
32
]. It appears that the cyto/chemokines and growth factors that were identified in the conditioned medium of cytotrophoblasts and the ones which were affected by AMA are generally known to influence several cellular processes and pathways ranging from inflammatory responses to immune competence, regulation of cellular proliferation to cell chemotaxis (Table
3
, Fig.
5
).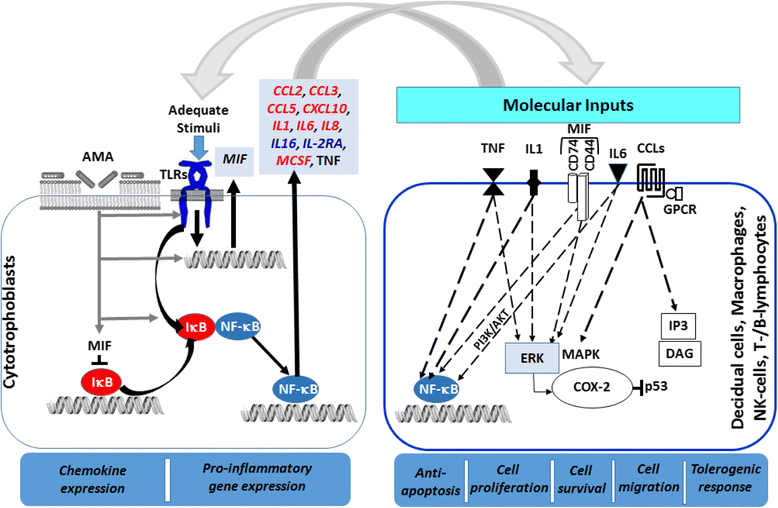 Conclusion
In conclusion, it appears that early placental villous cytotrophoblasts secrete a host of cytokines, many of which appear to be affected by the administration of a synthetic CAMP, Ala8,13,18-magainin II amide (AMA). Based on previous observations that AMA has anti-nidatory action and that it has untoward action on cellular homeostasis in early placental cytotrophoblast, it may be conjectured from the results of the present study that AMA mediated derangement in the profile of cyto/chemokines in early placental cytotrophoblasts may interfere with the normal immunomodulatory and other functions of placenta.
Declarations
Acknowledgements
The authors acknowledge the subjects who donated their biological samples, and the clinicians and nurses of the Department of Obstetrics and Gynecology, All India Institute of Medical Sciences, New Delhi, for their support to the study.
Funding
The funding was provided by the Indian Council of Medical Research, Government of India, India (I-760) to DG, and intra-mural funding support awarded by the All India Institute of Medical Sciences, New Delhi (A-292) to NM.
Open AccessThis article is distributed under the terms of the Creative Commons Attribution 4.0 International License (http://creativecommons.org/licenses/by/4.0/), which permits unrestricted use, distribution, and reproduction in any medium, provided you give appropriate credit to the original author(s) and the source, provide a link to the Creative Commons license, and indicate if changes were made. The Creative Commons Public Domain Dedication waiver (http://creativecommons.org/publicdomain/zero/1.0/) applies to the data made available in this article, unless otherwise stated.
Authors' Affiliations
(1)
Department of Physiology, All India Institute of Medical Sciences, New Delhi, India
(2)
Department of Obstetrics and Gynaecology, All India Institute of Medical Sciences, New Delhi, India