hCG, the wonder of today's science
Reproductive Biology and Endocrinology
2012
10:24
Received: 16 November 2011
Accepted: 28 March 2012
Published: 28 March 2012
Abstract
Background
hCG is a wonder. Firstly, because hCG is such an extreme molecule. hCG is the most acidic glycoprotein containing the highest proportion of sugars. Secondly, hCG exists in 5 common forms. Finally, it has so many functions ranging from control of human pregnancy to human cancer. This review examines these molecules in detail.
Content
These 5 molecules, hCG, sulfated hCG, hyperglycosylated hCG, hCG free beta and hyperglycosylated free beta are produced by placental syncytiotrophoblast cells and pituitary gonadotrope cells (group 1), and by placental cytotrophoblast cells and human malignancies (group 2). Group 1 molecules are both hormones that act on the hCG/LH receptor. These molecules are central to human menstrual cycle and human pregnancy. Group 2 molecules are autocrines, that act by antagonizing a TGF beta receptor. These molecules are critical to all advanced malignancies.
Conclusions
The hCG groups are molecules critical to both the molecules of pregnancy or human life, and to the advancement of cancer, or human death.
Keywords
Follicle Stimulate HormoneChorionic GonadotropinChoriocarcinomaCytotrophoblast CellGerm Cell Cancer
Background
Let's get to the point, why do we call human chorionic gonadotropin (hCG) the wonder of today's science. Firstly, hCG is an extreme molecule. It is the most acid protein in humans, some hCG variants have a peak isoelectric point (pI) stretching to pI 3.1. hCG variants are the most sialylated glycoproteins with up to 15 sialic acid residues per molecule. hCG variants are the most glycosylated of glycoproteins, hCG containing 30% sugar by molecular weight, hyperglycosylated hCG containing 39% sugar and hyperglycosylated hCG free ß-subunit containing 42% sugar by molecular weight. Finally, with its extreme molecular weights, hCG is the longest circulating molecule in human blood with a circulating half life of 36 hours. Secondly, as described in this review, there are amazingly 5 unique variants of hCG, each having identical amino acid sequence, produced by different cells and having independent functions. These are hCG, sulfated hCG, hyperglycosylated hCG, hCG free ß-subunit and hyperglycosylated hCG free ß-subunit. There is no other molecule like hCG.
Finally, hCG and its variants have an incredibly wide spectrum of biological functions. These range from hyperglycosylated hCG and pregnancy implantation and placental development, to hyperglycosylated hCG and hCG and hemochorial placentation. They also include hCG and fetal and uterine growth and numerous other key functions during pregnancy. Sulfated hCG is produced by the pituitary in women and controls steroidogenesis during the menstrual cycle and ovulation of the oocyte. Fascinatingly, a hyperglycosylated hCG/hCG free ß pathway is the center-point of all advanced human cancer biology, driving cancer growth, cancer invasion and cancer malignancy. This is not forgetting the key evolutionary role that chorionic gonadotropin variants play in the evolution of humans, most notably development of the hemochorial placentation system, that supports the development of the human brain. You could call hCG and its variants the everything molecules.
A common question is why are the 5 independent variants of hCG all called hCG. This is because they all share a common α-subunit and ß-subunit amino acid sequence.
I remember when I first discovered hyperglycosylated hCG as an hCG variant back in 1977 [1]. I first named it "invasive trophoblast antigen" because we knew at that time that it independently drove implantation of pregnancy and invasion by choriocarcinoma cells. Within 2 years I received an official letter from the World Health Organization instructing me to rename it a molecule containing the name hCG, because it contains hCG amino acid sequence. I renamed it hyperglycosylated hCG based on its structure.
Research by Laub and Jennissen [
2
] and Lehnert and Akhurst [
3
] showed that hCG ß-subunit was part of the transforming growth factor ß (TGFß) oncoprotein family of molecules. Lapthorn and collegues determined the 3 dimension structure of the hormone hCG [
4
], and showed a 4 peptide cystine knot structure in the ß-subunit was common to TGFß (Figure
1
). It is well established that the hormone hCG produced in pregnancy [
5
] and the sulfated variant of hCG produced by the pituitary [
6
], act on an hCG/luteinizing hormone (LH) receptor to evoke a response. Interestingly, hyperglycosylated hCG and hCG free ß-subunit have been shown to be autocrines and to function separately, binding and antagonizing a TGFß receptor on the cells that produce these hCG forms [
7
,
8
]. So another wonder, hCG and its variants have two very different receptor binding sites. Here we examine hCG and it variants, the wonders of today's science.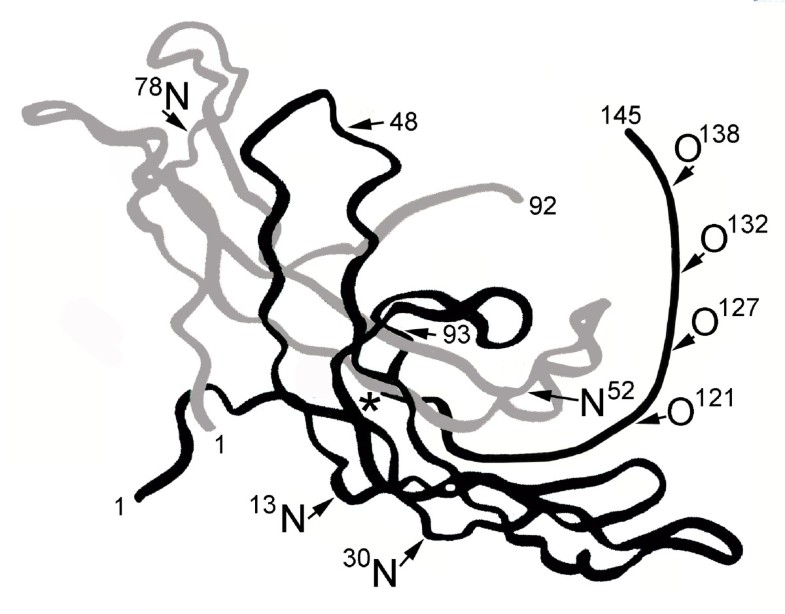 Conclusions
hCG is a wonder of today's science. It firstly is extreme molecule, including features such as the most acidic molecule, the most glycosylated molecule and the longest circulating half life. It secondly is unique with multiple variants of hCG having independent functions, and hCG variants binding 2 separate receptors, hLG/LH receptor and TGFß receptor. hCG needs to be considered as a placental hormone and autocrine, a pituitary hormone and a major cancer promoter.
Author's information
Laurence A. Cole PhD, The Howard and Friedman Distinguished Professor of Obstetrics and Gynecology, USA hCG Reference Service, 2412 Calle De Panza NW, Albuquerque NM 87104, Phone: 505-263-9635, E-mail: larry@hcglab.com.
Authors' Affiliations
(1)
USA hCG Reference Service, Albuquerque, USA
Copyright
© Cole; licensee BioMed Central Ltd. 2012
This article is published under license to BioMed Central Ltd. This is an Open Access article distributed under the terms of the Creative Commons Attribution License (http://creativecommons.org/licenses/by/2.0), which permits unrestricted use, distribution, and reproduction in any medium, provided the original work is properly cited.