Dehydroepiandrosterone (DHEA) supplementation in diminished ovarian reserve (DOR)
Reproductive Biology and Endocrinology
2011
9:67
Received: 7 March 2011
Accepted: 17 May 2011
Published: 17 May 2011
Abstract
Background
With infertility populations in the developed world rapidly aging, treatment of diminished ovarian reserve (DOR) assumes increasing clinical importance. Dehydroepiandrosterone (DHEA) has been reported to improve pregnancy chances with DOR, and is now utilized by approximately one third of all IVF centers world-wide. Increasing DHEA utilization and publication of a first prospectively randomized trial now warrants a systematic review.
Methods
PubMed, Cochrane and Ovid Medline were searched between 1995 and 2010 under the following strategy: [<dehydroepiandrosterone or DHEA or androgens or testosterone > and <ovarian reserve or diminished ovarian reserve or ovarian function >]. Bibliographies of relevant publications were further explored for additional relevant citations. Since only one randomized study has been published, publications, independent of evidence levels and quality assessment, were reviewed.
Results
Current best available evidence suggests that DHEA improves ovarian function, increases pregnancy chances and, by reducing aneuploidy, lowers miscarriage rates. DHEA over time also appears to objectively improve ovarian reserve. Recent animal data support androgens in promoting preantral follicle growth and reduction in follicle atresia.
Discussion
Improvement of oocyte/embryo quality with DHEA supplementation potentially suggests a new concept of ovarian aging, where ovarian environments, but not oocytes themselves, age. DHEA may, thus, represent a first agent beneficially affecting aging ovarian environments. Others can be expected to follow.
Keywords
Ovarian ReserveMiscarriage RatePreimplantation Genetic ScreeningPrimary Ovarian InsufficiencyDiminish Ovarian Reserve
Background
Casson and associates were first to suggest therapeutic benefits from supplementation with dehydroepiandrosterone (DHEA) in women with diminished ovarian reserve (DOR) [1]. They also suggested that, in micronized form, the androgen offers potential for postmenopausal steroid replacement, adjunctive to estrogen [2]; that its conversion may not be symmetrical, favoring androgens over estrogen, with testosterone increasing and estradiol remaining low [2]; that DHEA has immunomodulatory effects [3], now therapeutically explored in autoimmune diseases [4, 5], that vaginally administered DHEA, while delivering equivalent hormone, substantially diminishes bioconversion comparatively to oral micronized products [6], and that abnormally low adrenal DHEA secretion is potentiated by ovarian hypertstimulation with gonadotropins [7].
They also reported that DHEA is well tolerated and increases IGF-1 levels [8]. A main focus of this group's work was, thus, the compensation of adrenal cortical changes in aging women with DHEA [9].
Their initial therapeutic use of DHEA in patients with DOR [1] was motivated by observed increases in IGF-1 after DHEA supplementation [8]. Since growth hormone had been suggested to improve oocytes yields via IGF-1, they hypothesized that DHEA may be able to achieve similar effects. Though demonstrating improvement in oocytes yields [1], their initial paper went unnoticed for years, and initiated no follow up studies.
It was left to a 43 year old infertility patient to rediscover their paper, searching the literature for remedies to overcome DOR. She, in a first in vitro fertilization (IVF) cycle, had produced only a single egg and embryo, and was advised to consider oocyte donation [10]. This lay-person, reviewing the medical literature, amongst various suggested treatment options for improving low egg counts, chose DHEA because it was the only medication in the United States (US) available without prescription (DHEA in the U.S. is considered a food supplement).
In a second IVF cycle she produced three oocytes/three embryos. Her oocyte and embryo yields after that increased from cycle to cycle (Figure
1
). In the ninth IVF cycle, now age 44, gonadotropin dosages had to be reduced because of concerns about potential ovarian hyperstimulation, she still produced 17 oocytes (16 embryos) in that cycle alone.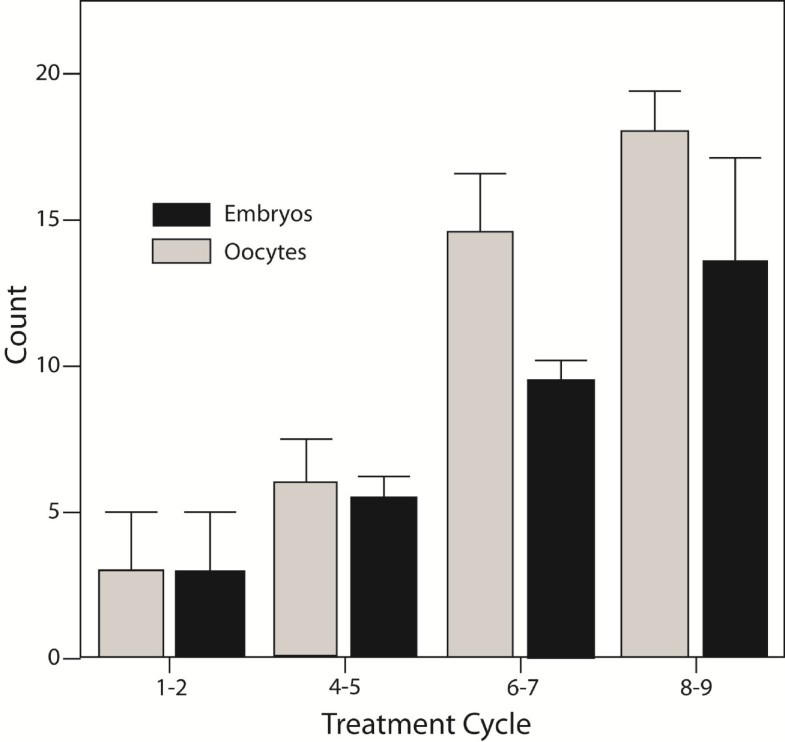 Following nine consecutive all-freeze IVF cycles, her change in ovarian function under DHEA supplementation (unknown to her physicians until after her 6th cycle) initiated the prospective investigation of DHEA [10]. Above noted initial patient will here be referred to as "index patient." Six years following this patient's self-administration of DHEA, a recent survey of IVF centers concluded that approximately one third of all IVF centers world-wide have started DHEA supplementation in women with DOR [11].
Because patients, largely, were not willing to enter randomization, a clinical trial of DHEA in the US (ClinicalTrials.gov ID# NCT00419913) had to be abandoned. Considering the usually limited time for conception left for DOR patients, this cannot surprise. A multicenter European trial involving centers in Austria, Switzerland and the Czech Republic, designed in follow up to the cancelled U.S. trial, had to be abandoned for the same reasons. Only recently did an Israeli group, for the first time, succeed in completing a small, prospectively randomized study [12]. All other DHEA studies published so far relied on other study designs.
An excellent recent study in a mouse model also offers considerable support for DHEA supplementation. This study very convincingly demonstrates the critical importance of androgens in regulating ovarian development and function [13]. In very elegantly designed experiments, Sen and Hammer demonstrated that androgens promote preantral follicle growth, while preventing follicular atresia. Androgens, long considered antagonistic to normal follicle development, thus, suddenly assume a central role in follicular development and female fertility [13]. Noting the previously referred to preferential conversion of DHEA to testosterone [2], these observations offer a potential mechanism by which DHEA supplementation improves ovarian function.
Methods
As only one, small prospectively randomized study, addressing DHEA supplementation with DOR, has so far been published (12), this review presents a comprehensive summary of all published data, indiscriminate of study format and/or quality assessment. Limitations of presented data are, however, discussed in detail.
Search strategy, study selection, data collection and analysis
We searched PubMed, Cochrane and Ovid Medline between 1995 and 2010 for all publications under the following key words: Dehydroepiandrosterone or DHEA; androgens or testosterone; ovarian reserve or diminished ovarian reserve; ovarian function or diminished ovarian function. In addition, we explored the bibliographies of all relevant publications for further relevant citations, which had not been detected via the original search. So identified publications were also in detail reviewed by the authors, including their relevant citations. A total of 114 publications were, thus, reviewed for this publication, with 64 being cited in this manuscript. The 50 manuscripts reviewed but not referenced in the review either contained no relevant information in regards to the topic of this review and/or only recited data of earlier published manuscripts, which are included in the reference list of this manuscript.
Every published study, addressing DHEA supplementation in infertile women with DOR, was reviewed and is cited in this manuscript. No selection of materials for inclusion or exclusion, therefore, took place. All publications were reviewed by both authors, who agreed with analysis and interpretation of data.
IRB approval
Since here reviewed data were based on prior publications, no Institutional Review Board (IRB) approval was required for this study. All materials from the authors own center had previously been accumulated (and published) after appropriate IRB review.
Conclusions
Best available evidence for the utilization of DHEA supplementation in improving ovarian performance in women with DOR was reviewed. A small, recently published clinical trial [12] and remarkable animal data [13] offer increasingly convincing clinical and experimental support for the use of DHEA, and possibly other androgens, in women with DOR.
These newly available data add to Level II and III evidence, generated by a small number of investigators, these authors included, over the preceding six years. Combined, these data suggest that DHEA supplementation may be effective in improving pregnancy chances in women with DOR. Since a DOR diagnosis often leaves limited time for treatment, patients should be given the choice of DHEA supplementation, though with appropriate informed consents. Especially with severe DOR, DHEA may, at least in some patients, make the difference between conceptions with autologous or heterologous oocytes.
Considering absence of significant side effects and, at least within the US, availability of DHEA as a food supplement, here presented data support utilization of DHEA in association with DOR, though attempts should be made to further define best suited patient populations for such treatment, maximally effective treatment protocols and best delivery systems.
Abbreviations
AMH:

Anti-Müllerian hormone
ARKO:

Androgen receptor knock out
CoQ10:

Coenzyme Q10
DHEA:

dehydroepiandrosterone
DOR:

diminished ovarian reserve
IVF:

In vitro fertilization
OPOI:

Occult primary ovarian insufficiency
OR:

Ovarian reserve
PGS:

Preimplantation genetic screening
POF:

Premature ovarian failure
POI:

Primary ovarian insufficiency
U.S.:

United States
Declarations
Acknowledgements
This study was supported by the Foundation for Reproductive Medicine and intramural research grants from the Center for Human reproduction (CHR) - New York. The authors wish to acknowledge and to thank E. Ryan, MD (Toronto West Fertility Center, Toronto, Canada) and L. Mamas, MD (Athens, Greece) for the personal communications, noted in the body of the manuscript.
Authors' Affiliations
(1)
Center for Human Reproduction (CHR) and Foundation for Reproductive Medicine, New York, USA
(2)
Department of Obstetrics, Gynecology and Reproductive Sciences, Yale University School of Medicine, New Haven, USA
(3)
Departments of Epidemiology and Social Medicine and Obstetrics, Gynecology and Women's Health, Albert Einstein College of Medicine, Bronx, USA
Copyright
© Gleicher and Barad; licensee BioMed Central Ltd. 2011
This article is published under license to BioMed Central Ltd. This is an Open Access article distributed under the terms of the Creative Commons Attribution License (http://creativecommons.org/licenses/by/2.0), which permits unrestricted use, distribution, and reproduction in any medium, provided the original work is properly cited.