Ectopic pregnancy secondary to in vitro fertilisation-embryo transfer: pathogenic mechanisms and management strategies
Reproductive Biology and Endocrinology
2015
13:30
Received: 20 January 2015
Accepted: 3 April 2015
Published: 12 April 2015
Abstract
Background
Ectopic pregnancy (EP) is the leading cause of maternal morbidity and mortality during the first trimester and the incidence increases dramatically with in vitro fertilisation and embryo transfer (IVF-ET). The co-existence of an EP with a viable intrauterine pregnancy (IUP) is known as heterotopic pregnancy (HP) affecting about 1% of patients during assisted conception. EP/HP can cause significant morbidity and occasional mortality and represent diagnostic and therapeutic challenges, particularly during fertility treatment. Many risk factors related to IVF-ET techniques and the cause of infertility have been documented. The combination of transvaginal ultrasound (TVS) and serum human chorionic gonadotrophin (hCG) is the most reliable diagnostic tool, with early diagnosis of EP/HP permitting conservative management. This review describes the risk factors, diagnostic modalities and treatment approaches of EP/HP during IVF-ET and also their impact on subsequent fertility treatment.
Methods
The scientific literature was searched for studies investigating EP/HP during IVF-ET. Publications in English and within the past 6 years were mostly selected.
Results
A history of tubal infertility, pelvic inflammatory disease and specific aspects of embryo transfer technique are the most significant risk factors for later EP. Early measurement of serum hCG and performance of TVS by an expert operator as early as gestational week 5 can identify cases of possible EP. These women should be closely monitored with repeated ultrasound and hCG measurement until a diagnosis is reached. Treatment must be customised to the clinical condition and future fertility requirements of the patient. In cases of HP, the viable IUP can be preserved in the majority of cases but requires early detection of HP. No apparent negative impact of the different treatment approaches for EP/HP on subsequent IVF-ET, except for risk of recurrence.
Conclusions
EP/HP are tragic events in a couple's reproductive life, and the earlier the diagnosis the better the prognosis. Due to the increase incidence following IVF-ET, there is a compelling need to develop a diagnostic biomarker/algorithm that can predict pregnancy outcome with high sensitivity and specificity before IVF-ET to prevent and/or properly manage those who are at higher risk of EP/HP.
Keywords
Ectopic pregnancyAssisted conceptionInfertilityFallopian tubeClinical management
Background
Ectopic pregnancy (EP) is a form of abnormal pregnancy in which the fertilised ovum implants outside the intrauterine cavity, with the ampullary region of the Fallopian tube being the most common site of implantation (Figure
1
) [
1
]. EP represents 1-2% of all pregnancies and haemorrhage from an EP due to tubal rupture remains the most common cause of maternal mortality in the first trimester of pregnancy [
2
].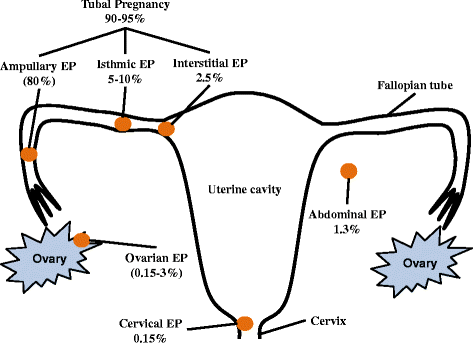 Infertility is a problem affecting 8-12% of couples worldwide [3]. The associations between infertility and EP are complex, as one of them could be simultaneously a cause and the other a consequence [4,5]. There is an increased risk of developing EP following fertility treatment, which could be due to the effects of the treatment or the pre-existing disorder [6].
Since the birth of the first successful in vitro fertilisation (IVF) baby in 1978 [7], there has been an increase demand for assisted reproductive technologies (ART), including intrauterine insemination and IVF-embryo transfer (IVF-ET) with or without intracytoplasmic sperm injection [8]. Nevertheless, IVF-ET is a major risk for the development of EP and the incidence is greater by 2–3 folds than that seen in the general population. IVF may also result in a heterotopic pregnancy (HP), which is an EP together with a viable intrauterine pregnancy (IUP) [6].
Several factors related to the cause of female infertility and applied technical procedures during IVF-ET have been described as major risk factors for EP/HP. The current review discusses these risk factors, available diagnostic modalities and management approaches for the treatment of EP/HP following IVF-ET treatment, and the impact of these abnormal pregnancies and their treatment on the chances of success of subsequent fertility treatment.
Methods
'Medline' and 'EMBASE' were searched using the terms 'in vitro fertilisation', 'embryo transfer', 'controlled ovarian stimulation', 'risk factors', 'diagnosis', 'ultrasound', 'human chorionic gonadotropin', 'laparotomy', 'laparoscopy', 'salpingectomy', 'salpingostomy', 'methotrexate', 'potassium chloride', 'hyperosmolar glucose', 'vasopressin', 'embryo reduction', 'ovarian reserve' and 'pregnancy rate' in combination with 'ectopic pregnancy', 'heterotopic pregnancy', 'tubal pregnancy', 'interstitial pregnancy', 'ovarian pregnancy', 'caesarean scar pregnancy', 'cervical pregnancy' or 'abdominal pregnancy' for studies published between 2004 and 2014.
Publications in English and within the past 6 years were selected, but commonly referenced and important older publications were not exclude. The reference lists of articles identified by this search strategy were also searched and those judged as relevant were also included. For a study to be included, it needed to be focused on incidence, diagnosis, clinical management and effect on subsequent IVF cycle of EP/HP during IVF-ET treatment. Studies that were solely focusing on EP following spontaneous conception were not included except of the management of HP due to its infrequency.
Conclusions
Ectopic pregnancy is a worldwide medical emergency and its incidence increases following treatment of infertility. Heterotopic pregnancy is also more common following IVF-ET. Early diagnosis and prompt intervention are crucial in order to diminish the morbidity and mortality of EP/HP. The combination of TVS and quantitative serum hCG is currently the most reliable diagnostic tool. Considering the increase risk of EP/HP subsequent to IVF-ET, follow-up of those patients with a positive pregnancy through early pregnancy is vital and the performance of TVS between weeks 4 and 6 of gestation could allow early detection and conservative management.
Patients with PUL should be closely monitored by serial measurement of serum β-hCG and repeated ultrasonography. The finding of empty uterus by TVS and persistent increase in hCG concentration should trigger an established protocol for detection of EP. Heterotopic gestation presents a particular diagnostic challenge since the diagnostic value of hCG is limited due to the co-existing viable IUP. The detection of a HP requires a high index of suspicious coupled with TVS by an experienced operator.
Treatment approaches should be tailored according the clinical condition and future fertility requirement of the patient and they should be offered alongside with psychological support. The patient should also be provided with accurate and reliable information on risks of the different treatment approaches and their associated complications and be reassured about the preservation of prospective fertility in subsequent IVF-ET cycles.
New diagnostic tests are needed to better identify those who are at highest risk of developing EP during assisted conception. Special measures might then be adopted in order to avoid this complication, for example by elective salpingectomy or tubal clipping at the cornu as is practised for women with hydrosalpynx. Although the majority of cases can be quickly diagnosed using existing methods, diagnostic dilemmas in the form of PUL or suspected HP still present challenges to the reproductive medicine specialist. Improvement in ultrasound diagnosis of early embryonic localisation and viability, perhaps coupled with novel diagnostic tests for the presence of an extra uterine pregnancy will make the clinicians job easier in the future.
Declarations
Acknowledgement
BR is supported by a grant (11-MED2067-10) from King Abdul Aziz City for Sciences and Technology (KACST) under the National Science, Technology and Innovation Plan.
Authors' Affiliations
(1)
Laboratory Medicine Department, Faculty of Applied Medical Sciences, Umm Al-Qura University, Al-Abdiyah Campus, Makkah, KSA
(2)
School of Women's & Children's Health, University of New South Wales, Sydney, Australia
Copyright
© Refaat et al.; licensee BioMed Central. 2015
This is an Open Access article distributed under the terms of the Creative Commons Attribution License (http://creativecommons.org/licenses/by/4.0), which permits unrestricted use, distribution, and reproduction in any medium, provided the original work is properly credited. The Creative Commons Public Domain Dedication waiver (http://creativecommons.org/publicdomain/zero/1.0/) applies to the data made available in this article, unless otherwise stated.