Gene expression profiles of mouse spermatogenesis during recovery from irradiation
Reproductive Biology and Endocrinology
2009
7:130
Received: 18 August 2009
Accepted: 19 November 2009
Published: 19 November 2009
Abstract
Background
Irradiation or chemotherapy that suspend normal spermatogenesis is commonly used to treat various cancers. Fortunately, spermatogenesis in many cases can be restored after such treatments but knowledge is limited about the re-initiation process. Earlier studies have described the cellular changes that happen during recovery from irradiation by means of histology. We have earlier generated gene expression profiles during induction of spermatogenesis in mouse postnatal developing testes and found a correlation between profiles and the expressing cell types. The aim of the present work was to utilize the link between expression profile and cell types to follow the cellular changes that occur during post-irradiation recovery of spermatogenesis in order to describe recovery by means of gene expression.
Methods
Adult mouse testes were subjected to irradiation with 1 Gy or a fractionated radiation of two times 1 Gy. Testes were sampled every third or fourth day to follow the recovery of spermatogenesis and gene expression profiles generated by means of differential display RT-PCR. In situ hybridization was in addition performed to verify cell-type specific gene expression patterns.
Results
Irradiation of mice testis created a gap in spermatogenesis, which was initiated by loss of A1 to B-spermatogonia and lasted for approximately 10 days. Irradiation with 2 times 1 Gy showed a more pronounced effect on germ cell elimination than with 1 Gy, but spermatogenesis was in both cases completely reconstituted 42 days after irradiation. Comparison of expression profiles indicated that the cellular reconstitution appeared equivalent to what is observed during induction of normal spermatogenesis.
Conclusion
The data indicates that recovery of spermatogenesis can be monitored by means of gene expression, which could aid in designing radiation treatment regimes for cancer patients leading to better restoration of spermatogenesis.
Keywords
Germ CellSertoli CellSeminiferous TubuleDifferential DisplayTestis Weight
Background
Treatment of cancers often includes radiation and/or chemotherapy and in many cases leads to temporally discontinuation of spermatogenesis. In particular treatment of testicular tumors leads to impaired spermatogenesis. Fortunately, fertility and preservation of androgen production can be sustained in many cases due to reconstitution of the seminiferous epithelia. Side effects of chemotherapy and radiotherapy however include cardiovascular disease, secondary malignancy and a reduced fertility [1]. Current knowledge about re-initiation of spermatogenesis after radiation is however limited, but could benefit the patient's chance of regaining fertility and proper androgen production.
Spermatogenesis is a long, complex and finely tuned process [2]; during this process, the developing germ cells are sensitive to endogenous and exogenous stress. Cancer therapies such as radiation and chemotherapy can cause temporary or permanent impairment of fertility in male cancer patients who usually are in the reproductive age [3–5]. Therefore, an important goal of successful treatment is to minimize the cytotoxic impact of the treatment in order to maximize chances of re-initiating spermatogenesis while still efficiently killing cancerous cells. To this end, it is necessary to understand how radiation affects the differentiating germ cell and thus produce infertility in male mammals.
Spermatogenesis is initiated from the most primitive type of spermatogonia, the type A-single (As) or stem cell spermatogonium, which has two possible fates: self-renewal or committed differentiation [6]. The As spermatogonia give rise to A-pair (Apr) and then A-aligned (Aal) spermatogonia which are then able to differentiate into A1, A2, A3, A4, intermediate (In), and B spermatogonia [7]. When a type B spermatogonia enter the last mitotic division, it generates two primary spermatocytes, which initiate meiosis by replicating the DNA before they pass through a number of stages, that ends with the two nuclear divisions distinguished as meiosis I and II [8]. After the meiotic divisions each primary spermatocyte results in the formation of four haploid round spermatids [9]. The spermatids proceed through a long differentiation process (designated spermiogenesis) resulting in the release of spermatozoa.
Several studies have investigated the effect of irradiation on the testis. As early as in the 1950s Oakberg demonstrated in mice that type In and type B spermatogonia were very sensitive to irradiation while undifferentiated type A spermatogonia had a variable sensitivity [10, 11]. More recent studies further demonstrated that A1 through A4, which are undergoing differentiation and are actively proliferating are the most radio-sensitive spermatogonia followed by Apr and Aal spermatogonia. As are the most radio-resistant spermatogonia, but they nevertheless show moderate sensitivity to radiation and alkylating agents [12–15]. In accordance, Dym and Clermont [16] found in rat that a fraction of type A spermatogonia, which gives rise to recuperation of the germ cell population, is particularly resistant to irradiation [17]. Spermatogonia are highly susceptible to DNA damaging agents, which block their mitotic activity and kill cells during the S-phase [3, 14, 15]. Since DNA damage leads to apoptosis when they try to divide, spermatogonia are more vulnerable than quiescent Sertoli and Leydig cells and spermatids, however spermatocytes that are in the meiotic divisions are also less vulnerable than spermatogonia [18, 19].
Virtually the entire population of spermatogonia will die if exposed to sufficiently high X-ray doses and especially a fractionated irradiation [6]. Recovery may however be increased at very high doses with a fractionated irradiation [20]. After exposure to irradiation, spermatocytes and spermatids continue normal development and ultimately leave the testis as spermatozoa. If stem cells (As spermatogonia) survive the irradiation, they may in some cases quickly initiate the recovery of spermatogenesis and repopulate the seminiferous epithelium [13, 21]. The remaining As spermatogonia will either first replenish their own numbers before they enter spermatogenic differentiation and in time, spermatogenesis spreads along the length of the tubule [22–24], or they can remain "arrested" in the testis as isolated spermatogonia in atrophic tubules [25, 26]. In some cases a delay before spermatogenesis reinitiates has been observed [27, 28].
Currently there is little evidence for damage to the somatic elements of the testis after moderate doses of radiation or chemotherapy. However, as the germ cells are dependent on Sertoli cells for survival, it is difficult to assess whether it is germ cells or somatic cells that are damaged by radiation. A recent study in rat testes demonstrated that radiation-induced block in spermatogonial differentiation may in fact be caused by damage to the somatic environment, i.e. the Sertoli cells, and not to the germ cells [29]. Indeed transplantation of Sertoli cells into irradiated testes has shown to stimulate recovery of endogenous host spermatogenesis [30]. Stimulation might however be indirectly as the endocrine androgen-estrogen balance seems crucial in stimulating spermatogonial recovery [31].
In the present study we aimed at implementing the tight link between gene expression profiles during the first postnatal wave (induction) of spermatogenesis and cell types present in the testis, to describe changes in the cellularity during recovery from irradiation. We generated expression profiles of several genes during testicular recovery from irradiation and deduced the cellular expression by in situ hybridization, which allowed us to follow the gap created in spermatogenesis. We define the gap size and compare the effect of 1 Gray (Gy) and 2 × 1 Gy on cellular changes and show that recovery effectively can be followed by means of gene expression.
Methods
Mice testis preparation
Male C3H/He strain mice were obtained from Japan SLC (Shizuoka, Japan). All animals were maintained under controlled conditions (22 ± 2°C, 55 ± 5% humidity, 12 h light/dark cycle, lights on 0600 h) and were given laboratory chow (CE-2, Japan Crea, Tokyo, Japan) and water ad libitum.
Eleven-week old mice were anesthetized with pentobarbital and covered with lead sheeting except a part of the scrotum. The testes were locally exposed to X-ray radiation with 1 Gy or 2 times 1 Gy with an interval of 7 days. Testes from 1 or 4 mice were sampled every third or fourth day during recovery where the testes were removed and weighted. One testis was fixed in 4% paraformaldehyde in 0.1 M phosphate buffer, pH 7.4, overnight at 4°C and subsequently dehydrated in graded series of ethanol and embedded in paraffin for In situ hybridization (ISH). The contralateral testis was snap-frozen in liquid nitrogen and used for preparation of total RNA. Mice testes radiated with 1 Gy were sampled on days 3, 7, 10, 14, 17, 21, 24, 28, 31, 35, 38, 42, 45, 48, 52, 56, 59, and 63 post-irradiation (pi). Testes irradiated to 2 × 1 Gy were first sampled after the second dose (7 days after first dose) and on days 7, 10, 14, 17, 21, 24, 28, 31, 35, 38, 42, 45, 48, 52, 59, and 63 pi. The dosing of irradiation was chosen based on literature to make sure that cellular change occurred.
Animal studies were approved by The Japanese Pharmacological Society and the animals were treated according to generally accepted guidelines for animal experimentation at St. Marianna University Graduate School of Medicine and guiding principles for the care and use of laboratory animals.
Differential display analysis
Differential display (DD) was performed essentially as previously described [32]. Total RNA was purified from testes using the NucleoSpin RNA II kit as described by manufacturer (Macherey-Nagel, Düren, Germany). cDNA was synthesized using one-base-anchored AAGCTTTTTTTTTTTC (AAGCT11C) downstream primers. The cDNA was used in competitive polymerase chain reactions (PCRs) using two-base-anchored primers (AAGCT11CC) in combination with two different upstream primers. The Tnp2 band was displayed by the upstream primer CATAGAAATGGCGGACA; and Vps26a, Gata1 and Ribc2 were all displayed by the same upstream primer (ATCCTTGTGCCTCAGTT). Dazl were displayed with GATCATCTCTGCTA in combination with HT11G. The PCR products were separated on polyacrylamide gels, and quantified by phosphorimaging as described earlier [32]. Bands of interest were excised from the gel, re-amplified using the same upstream primer as in the competitive PCR and a HT11CC/HT11G primer with an additional T7-promoter overhang. This facilitated subsequent sequencing and identification of the excised band [32]. Quantification as measured by disintegrations per square mm was normalized to the background and thus expressed as intensity in arbitrary units.
In situhybridization
ISH was carried out as previously described [33]. ISH probes were designed from the DD DNA fragments and prepared by re-amplification of the fragments using nested primers specific to the mRNA, extended by a T3-promoter sequence, in combination with a downstream primer extended with T7-promoter sequence. The resulting PCR product was purified on a 2% low-melting agarose gel and sequenced from both ends using primers complementary to the added T3- and T7-promoter sequences. Aliquots of 200 ng were used for in vitro transcription with incorporation of biotin-labeled nucleotides using the MEGAscript-T3 (sense) or MEGAscript-T7 (antisense) kits as describes by the manufacturer (Ambion, Houston, TX). Tissue sections (8 um) were deparaffinized, re-fixed in 4% paraformadehyde (PFA), treated with proteinase K (P-2308, Sigma, St. Louis MO USA) (1.0-5.0 μg/ml), post fixed in PFA, pre-hybridized 1 h at 50°C, and hybridized o. n. at 50°C with biotinylated antisense and - sense control probes. Excess probe were removed with 0.1 × SSC (60°C) 3 × 33 min. Visualization was performed with streptavidin conjugated with alkaline phosphatase (1:1000) (Cat. No. 1093266, Roche Diagnostics GmbH, Mannheim, Germany) followed by a development with BCIP/NBT, for details se [33].
Results
Two groups of 63 mice were irradiated with either 1 Gy or 2 × 1 Gy with an interval of one week. Recovery of spermatogenesis was followed in a period of about 60 days post irradiation (pi) by analysis of differentially expressed transcripts using Differential Display (DD) with primer combinations that previously had been applied to study postnatal testicular development [34]. ISH was in addition performed to verify the cellularity of the differentially expressed transcripts, since reduced expression at the whole-testes-level in most cases reflect the absence of the cells normally expressing the gene [34].
Conclusion
Irradiation of mice testis created a gap in spermatogenesis, which was initiated by loss of A
1
to B-spermatogonia. The gap lasted for approximately 10 days and successively extinguished germ cells at different developmental stages. Spermatogonial stem cells were, however, able to re-populate the seminiferous epithelia, which was reconstituted 42 days after irradiation. The gene expression profile of different cell types during reconstitution is schematized in fig.
6
. The data show that gene expression can be a useful tool to describe reconstitution of testicular tissue after irradiation or chemotherapy, which otherwise rely on detailed histological descriptions that require carefully trained pathologists.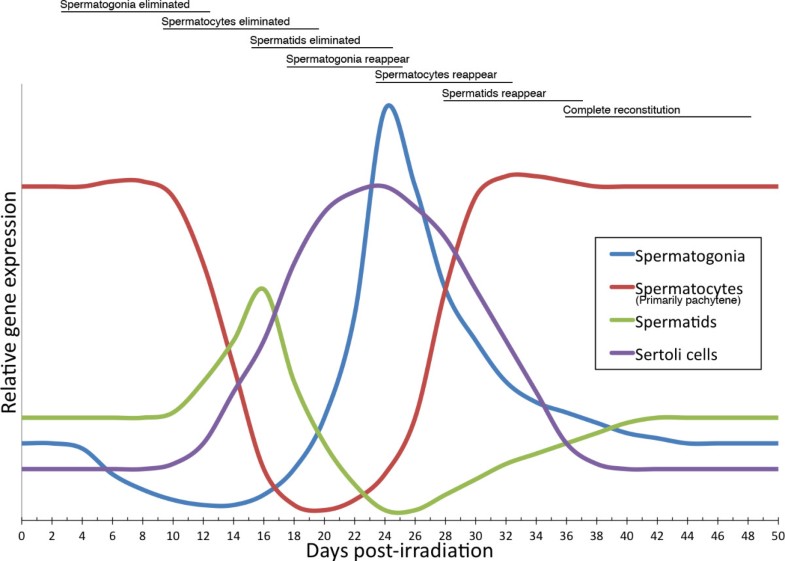 List of abbreviations
ISH:

in situ hybridization
DD:

differential display
pi:

post-irradiation
pn:

post natal.
Declarations
Acknowledgements
We are grateful for excellent technical assistance from Brian Vendelbo and Sabina Soultanova and for critical reading of the manuscript from Ewa Rajpert-De Meyts. The work was supported by The European Commission, The Japanese Science and Technology Agency CREST program, and Svend Andersen's foundation. The authors are solely responsible for statements made and they do not represent the opinion of the European Commission, which is not responsible for any use that might be made of data appearing herein.
Authors' Affiliations
(1)
University Department of Growth and Reproduction GR-5064,Rigshospitalet, Copenhagen O,, Denmark
(2)
Institute for Animal Experimentation, St. Marianna University Graduate School of Medicine, Miyamae-ku, Japan
(3)
Department of Pharmacology, St. Marianna University School of Medicine, Miyamae-ku, Japan
(4)
Center for infertility and IVF, International University of Health and Welfare Hospital, Nasushiobara, Japan
Copyright
© Shah et al; licensee BioMed Central Ltd. 2009
This article is published under license to BioMed Central Ltd. This is an Open Access article distributed under the terms of the Creative Commons Attribution License (http://creativecommons.org/licenses/by/2.0), which permits unrestricted use, distribution, and reproduction in any medium, provided the original work is properly cited.