The "graying" of infertility services: an impending revolution nobody is ready for
Reproductive Biology and Endocrinology
2014
12:63
Received: 17 April 2014
Accepted: 6 July 2014
Published: 9 July 2014
Abstract
Background
As demand for infertility services by older women continues to grow, because achievable in vitro fertilization (IVF) outcomes are widely underestimated, most fertility centers do not offer maximal treatment options with use of autologous oocytes. Limited data suggest that clinical IVF outcomes in excess of what the American Society for Reproductive Medicine (ASRM) considers "futile" can, likely, be achieved up to at least age 45 years.
Methods
In an attempt to point out an evolving demographic trend in IVF, we here report our center's IVF data for 2010-2012 and national U.S. data for 1997-2010. Though our center's data are representative of only one IVF center's patients, they, likely, are unique since they probably represent the most adversely selected IVF patient population ever reported and, thus, are predictive of future demographic trends. In addition we performed a systematic review of the literature on the subject based on PubMed, Medline and Google Scholar searches till year-end 2013. The literature search was performed using key words and phrases relevant to fertility treatments in older women.
Results
As demonstrated by our center's patient demographics and national U.S. data, IVF centers are destined to treat increasingly adversely selected patients. Despite our center's already extremely adversely selected patient population, age-specific IVF cycle outcomes in women above age 40 years, nevertheless, exceeded criteria for "futility" by the ASRM and widely quoted outcome expectations in the literature for patient ages. Age 43 discriminates between better and poorer clinical pregnancy and live birth rates.
Conclusions
"Graying" of the infertility populations in the developed world, a problem with potentially far-reaching medical and societal consequences, has so far been only insufficiently addressed in the literature. As women's postmenopausal life spans already exceed postmenarcheal life spans at the start of the 20th century, the "graying" of infertility services can be expected to further accelerate, no longer as in recent decades bringing only women in their 40s into maternity wards but also women in their 50s and 60s. Medicine and society better get ready for this revolution.
Keywords
InfertilityAdvanced ageInfertility treatmentsAge limitationsClinical consequencesSocietal consequences
Background
Women above age 40 in the United States (U.S.) now represent the proportionally fastest growing age group having children [1, 2]. Potential medical and societal consequences have found little attention in the medical literature, even though a recent study once again offered convincing evidence for the importance of age as a predictor of failure to achieve live birth [3].
Because favorable patients now usually conceive relatively quickly with in vitro fertilization (IVF), unfavorable patients accumulate disproportionally in IVF centers. This trend is further aggravated by above noted new reality in the U.S. that older and older women are trying to conceive.
Since our center for at least five years has been serving primarily as a "center of last resort" for patients who previously have failed IVF cycles elsewhere, our center experience, likely, is predictive of where the practice of IVF is destined to go over the coming decades.
We, therefore, reviewed in addition to national U.S. trends, our center's 2010-2012 IVF outcome data, obtained in a uniquely adversely selected patient population, to assess outcome expectations, considering current practice patterns, for women above age 40 years. We, in addition, conducted a systemic search of the published literature on this subject.
This presentation, therefore, primarily is not meant as a presentation of original data but as a review of preliminary existing data, which may point towards where IVF practice, likely, is destined to go over the next two decades.
Methods
IVF cycle outcomes
Our center's IVF cycles, under a federally mandated law, are annually reported to the Centers for Disease Control (CDC) and voluntarily to the American Society for Reproductive Medicine (ASRM)/Society for Assisted Reproductive Technologies (SART).
In addition, every cycle is entered into the center's anonymized electronic research database, which served as one source for here reported center data for 2012 IVF cycles, together with the center's annual reports to CDC and ASRM/SART. 2013 outcome data were not yet complete by the time of this report.
Our center's patient population
Our center's IVF experience should be of special interest because of the patient population in which these outcomes were achieved. Based on review of 2010 and 2011 published CDC and ASRM/SART outcome reporting data, our center, proportionally, has been serving the largest percentage of women above age 42 years amongst all reporting ART centers in the U.S. Other adverse selection parameters for our center's patient population are, however, not public since they are not reported to either CDC and/or ASRM/SART. Figures 1A and B demonstrate that our center's patient population, indeed, does likely reflect the most adverse selection criteria of any reported IVF center in the U.S., if not worldwide.
Figure
1
A demonstrated mean and median ages of our center's IVF patient population between 2006-2012. As the figure demonstrates, starting in 2010, our center experienced a significant increase in patient age, which even before already demonstrated a median population age around 38 years. Since 2010 the median age has, however, further increased to above age 40, with 2012 data suggesting that median age may soon reach age 41.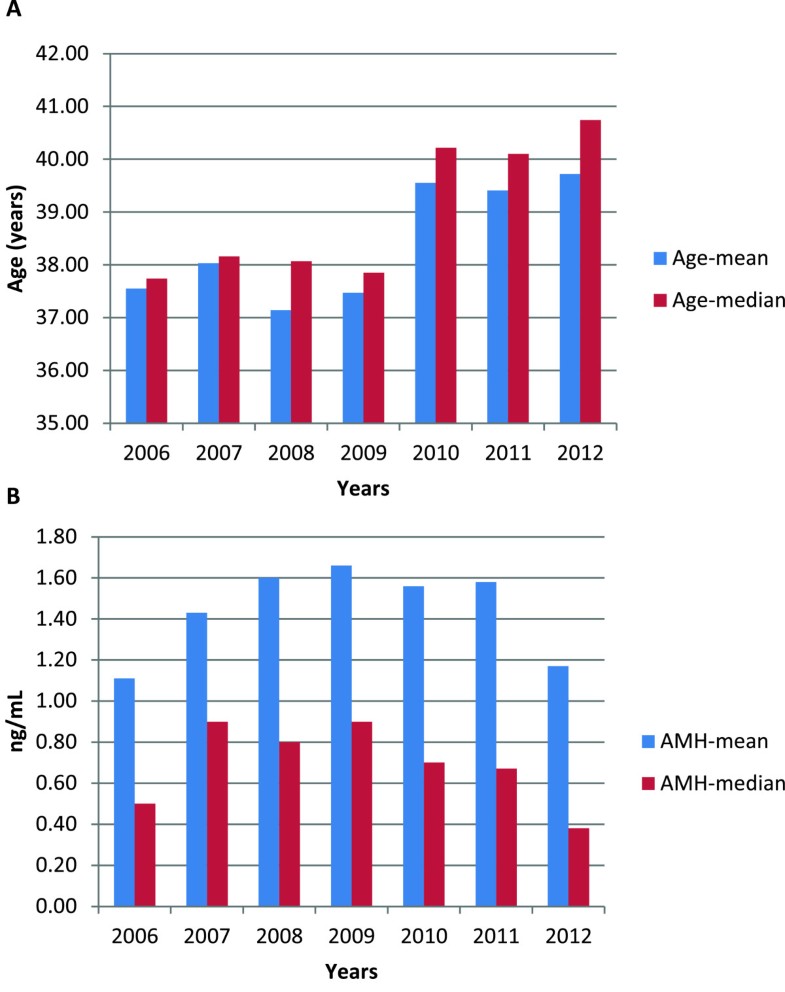 The "graying" of the center's patient population is, however, not only demonstrated by increasing age. As Figure 1B demonstrates, concomitantly, the patients' anti-Müllerian hormone (AMH) levels at presentation significantly declined, indicating increasingly poor functional ovarian reserve (FOR) of treated patients. Before 2010, median AMH values hovered around 0.80 ng/mL, already considered below favorable outcome levels for women with low FOR [4]; yet, starting in 2010, median AMH levels progressively decreased, reaching a nadir in 2012 below 0.40 ng/mL, with preliminary 2013 data (not shown) suggesting further declines.
Concomitantly, in our center's 2012 annual CDC/SART submissions, 13.8% of all fresh IVF cycles occurred in women at ages 41-42 years, 20.6% at ages 43-44 years and 12.6% in women above age 46 years. This means that 47.0% of all fresh cycles involved women above age 41 and 33.2% of cycle women above age 43 years.
Considering these demographic data, it is not surprising that only 10.1% of fresh cycles were followed up by a frozen-thawed cycle during 2012 since women of advanced age and with low FOR rarely produce enough oocytes/embryos for subsequent thaw cycles. Yet, despite performance of so many fresh IVF cycles in significantly aged women, still, in addition, 18.3% of all fresh cycles were donor egg cycles.
Further documentation of our center's adverse patient selection is the fact that between 2010-2012 in each year over 85% of newly presenting patients to our center had previously been in infertility treatments elsewhere and had failed at least one IVF cycle attempt. Most of these patients, indeed, had failed multiple IVF cycles, often at a number of different centers. In addition, the number of new long-distance patients, defined as patients from outside the larger New York City Tristate area, has been persistently increasing over the last five years, and in 2012 for the first time exceeded 60% of the centers total new patient population. Approximately two-third of long-distance patients come from the rest of the U.S. and Canada, and the rest from overseas.
Here presented data demonstrate that our center's current population during 2012 in more than half of all cases was of very advanced female age and/or suffered from very low FOR. While such extreme patient characteristics, currently, are not yet the norm at other IVF centers, trends in developed countries go into the same direction, as young and uncomplicated IVF patients quickly conceive, while older and more poor prognosis patients accumulate.
Systematic literature review
We searched PubMed, MEDLINE® and Google Scholar databases for multiple key words and phrases, referring to < fertility > and < fertility treatments > in < older women > or at < advanced age>, including specific end points, like < spontaneous pregnancies>, <pregnancy rates>, <in vitro fertilization (IVF)>, <intrauterine insemination (IUI)>, <miscarriages>, <pregnancy loss>, <aneuploidy>, <medical complications of pregnancy>, <age related medical complications of pregnancy>, etc.
Data from the literature were initially extracted by one author (NG) and then reviewed by the three other authors (VAK, AW, DHB).
This search failed to reveal even a single clinical trial addressing fertility treatments in "older" women (>age 40 - 42 years), and also did not demonstrate even a single review on the subject. Whatever limited data are available, are here presented.
Institutional Review Board (IRB)
Our patients sign at initial consultation, as part of a universal HIPAA consent form, a statement that allows use of data from their medical records for reporting purposes to CDC, ASRM/SART and for research purposes, as long as their medical data remain confidential and their identity remains protected. Both conditions were met here. Since utilized data in here presented study only utilized anonymized statistical data sets, it did not require further IRB approval.
Conclusions
Reproductive medicine is inching ever closer towards technical abilities, which will allow for successful reproduction, almost independent of female age. Recent evidence that sperm and oocytes can be derived from testicular [79] and ovarian stem cells [80], and that even pluripotent adult stem cells can be used to produce gametes [81, 82], will, likely, make age-independent human reproduction a clinical reality within the foreseeable future. If progress in infertility treatments over the last 10-20 years has generated a pregnancy boom for women in their 40s, independence from ovarian and testicular senescence will expand this boom into the females' 50s and, maybe, even 60s.
Societal consequences will be highly significant: With women's lifespans in many industrialized countries now exceeding 80 years, even 50-year old mothers now will have postmenopausal life expectancies exceeding postmenarcheal life expectancies of much younger mothers at the beginning of the 20th Century. Women, therefore, will increasingly give birth to children at what, just one to two generations ago, used to be grandparental ages. Consequences will not only be medical in nature but will permeate all aspects of modern society. Against a backdrop of already budget-bursting health care costs, medical practice and society better get ready for this revolution!
Abbreviations
AMH:

Anti-Müllerian hormone
CDC:

Centers for Disease Control and Prevention
DHEA:

Dehydroepiandrosterone
DOR:

Diminished ovarian reserve
EC-ASRM:

eSET, Elective single embryo transfer
FOR:

Functional ovarian reserve
FSH:

Follicle stimulating hormone
HEFA:

Human Fertilisation and Embryology Authority
hMG:

Human menopausal gonadotropin
IUI:

Intrauterine insemination
IVF:

In vitro fertilization
PGS:

Preimplantation genetic screening
POA:

Premature ovarian aging
OPOI:

Occult primary ovarian insufficiency
OR:

Ovarian reserve
T:

Testosterone
U.K:

United Kingdom
U.S:

United States.
Declarations
Acknowledgements
Funded by salary support from The Center for Human Reproduction – New York.
Authors' Affiliations
(1)
Center for Human Reproduction, New York, USA
(2)
Foundation for Reproductive Medicine, New York, USA
(3)
Department of Gynecologic Endocrinology and Reproductive Medicine, Medical University Vienna, Vienna, Austria
Copyright
© Gleicher et al.; licensee BioMed Central Ltd. 2014
This article is published under license to BioMed Central Ltd. This is an Open Access article distributed under the terms of the Creative Commons Attribution License (http://creativecommons.org/licenses/by/4.0), which permits unrestricted use, distribution, and reproduction in any medium, provided the original work is properly credited. The Creative Commons Public Domain Dedication waiver (http://creativecommons.org/publicdomain/zero/1.0/) applies to the data made available in this article, unless otherwise stated.