The hormonal composition of follicular fluid and its implications for ovarian cancer pathogenesis
Reproductive Biology and Endocrinology
2014
12:60
Received: 9 May 2014
Accepted: 27 June 2014
Published: 6 July 2014
Abstract
Ovulation has long been associated with an increased risk in ovarian cancer, yet the underlying molecular mechanisms remain obscure. Two aspects of ovulation have been linked to ovarian cancer pathogenesis. The first is the impact of repetitive tissue injury and repair that occurs with each ovulatory event. The second is the release of follicular fluid that accompanies the follicular rupture and its effect on the ovarian and fallopian tube epithelial cells. Hormones are an important component of follicular fluid, which transiently bathes the ovarian surface and fallopian tube epithelium during ovulation. Much work has been done exploring the role of hormones in fertility, but some, such as estrogen, have also been implicated in the pathogenesis of ovarian and other cancers. Understanding the role of hormones within follicular fluid, as well as how they are altered in disorders which increase ovarian cancer risk, will enhance our ability to assess risk and develop preventative strategies. This review provides an in depth discussion of the logistics of using and studying follicular fluid in ovarian cancer research, and discusses the fluctuations in follicular fluid hormone levels during normal physiological processes versus conditions that increase ovarian cancer risk.
Keywords
Follicular fluidOvarian cancerHormones
Background
Despite our growing understanding of the cancer genome and the evolution of targeted therapies, ovarian cancer remains the most lethal gynecological malignancy in the Western world [1]. The clinical outcomes for this disease have not changed significantly over the past four decades, in large part due the lack of early detection tools and the almost inevitable emergence of chemo-resistant disease [1]. Adding to the complexity of this cancer is its heterogenous nature. Although ovarian tumors can arise from three different cell types: epithelial cells, germ cells, and sex cord stromal cells, the vast majority of ovarian cancers are epithelial in nature. Even within epithelial ovarian cancers there exist various histologic subtypes and molecular subgroups. This has prompted the classification of epithelial ovarian cancers into two groups. Type I tumors, clearly linked to ovarian precursor lesions, encompass all histologic subtypes including low grade serous, endometriod, mucinous, and clear cell carcinomas. They are defined by their slow growth and multiple genetic mutations. In contrast, Type II tumors are highly aggressive, confer a much poorer prognosis, and many have been linked to precursors arising from the fallopian tube epithelium. High Grade Serous Ovarian Cancer (HGSOC) is the most common of the Type II tumors. Type I and Type II tumors are also genomically distinct. Type I tumors are frequently associated with specific mutations in oncogenes such as k-RAS and ARID1A [2]. In Type II tumors, TP53 is mutated in the vast majority of tumors (96-100%) and appears to be the earliest genetic event in HGSOC. BRCA1 and BRCA2 mutation carriers are particularly susceptible to Type II tumors [2, 3].
While much work has been done to characterize the pathology and genetics of ovarian cancer, we still lack a basic understanding of the early events and causes of this disease. Our current understanding of the risks factors of HGSOC derives primarily from epidemiological data. Lifetime ovulation is positively correlated with HGSOC, and factors such as parity and birth control, which decrease lifetime ovulation, have a protective effect against HGSOC [4, 5]. Establishing a molecular mechanism linking ovulation and HGSOC pathogenesis is critical to developing screening techniques and treatments for this disease.
Models of ovarian cancer pathogenesis
The origins of ovarian cancer are complex and still under debate. New theories suggest that different ovarian tumor subtypes have different origins, with the ovarian surface epithelium implicated in Type 1 tumors and fallopian tube secretory epithelial cells implicated in high grade serous ovarian cancer [2, 3, 6]. The adherent mesothelium of the ovary attracts both shed fallopian tube cells as well as endometriosis-derived Müllerian tissue, further blurring the lines of the ovary vs. Müllerian tissue debate [7].
Understanding the various cells of origin in ovarian cancer similarly informs our understanding of ovarian cancer pathogenesis. Several models have been posited to explain how epidemiological factors such as menstruation and ovulation may lead to ovarian cancer. A long standing hypothesis, often called the Incessant Ovulation Hypothesis, suggests that the repetitive wounding and healing of the ovarian surface epithelium and adjacent tubal epithelium that is induced by monthly ovulation increases cell proliferation and thus the likelihood of genomic instability which could lead to oncogenesis (Figure
1
) [
4
]. Another hypothesis, known as the Gonadotropin hypothesis, implicates excessive direct and indirect stimulation of the ovarian surface epithelium by gonadotropins, leading to differentiation, proliferation, and ultimately malignant transformation (Figure
1
) [
5
]. More recently, the Incessant Menstruation hypothesis suggests that repeated exposure to retrograde menstruation exposes the ovary and fallopian tube to reactive oxygen species and oxidative iron from the blood [
8
]. Lastly, several recent papers have focused on damage induced by inflammation-mediated factors found in the follicular fluid [
9
,
10
]. The recurring theme in all these hypotheses is the incessant ovulatory damage. This reinforces the importance of ovulation, but also makes it difficult to separate the impact of each hypothesis as they are physiologically interconnected. Women with altered steroid hormone levels, such as those with Polycystic Ovarian Syndrome (PCOS), tend to ovulate sporadically, while women who take oral contraceptives receive the protective benefits of both lowered gonadotropin levels and inhibited ovulation [
5
,
11
]. The average age of onset in ovarian cancer is postmenopausal, at age 63, when hormonal levels have shifted and ovulation has stopped [
12
]. Thus, an unanswered question that also remains is why menopause is so temporally important to the onset of the disease.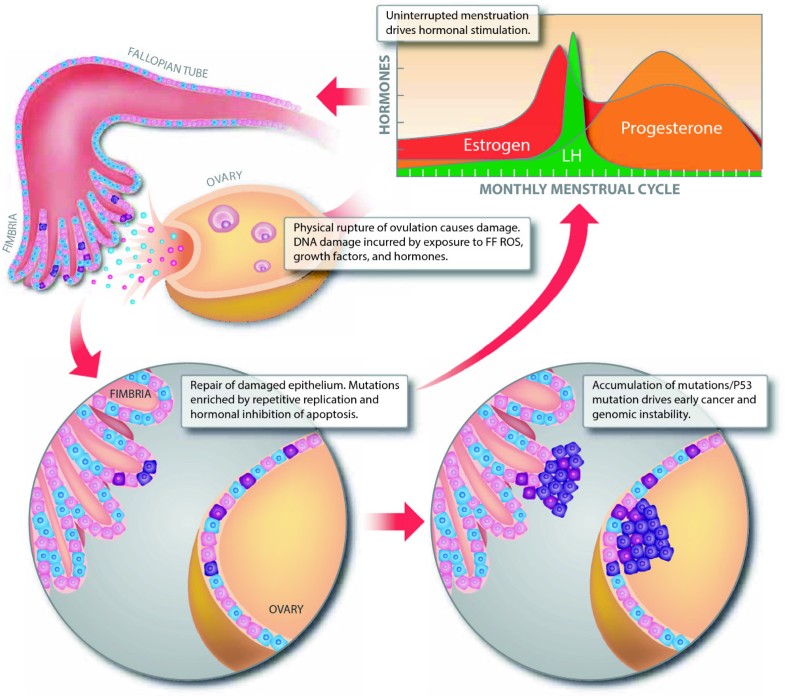 Ovulation and follicular fluid
Mature human follicles reach approximately 23 mm in diameter, yielding upwards of 5 mL of follicular fluid (FF) [13]. During ovulation, FF is released and bathes the surrounding tissue, including the ovarian surface epithelium and fallopian tube (FT) fimbria proximal to the ovary. The debate over whether the ovarian surface epithelium (OSE) or the FT fimbria is the cell of origin for HGSOC is discussed in detail elsewhere [6, 14]. For the purposes of this review, both tissues are exposed to the risk factors associated with ovulation. While there is robust epidemiologic data correlating total ovulatory events to ovarian cancer risk, a biological explanation remains elusive. One possibility recently proposed is that FF is genotoxic to exposed epithelia (OSE and FTE) and that repetitive exposure to this fluid can lead to mutations and alterations that drive neoplastic transformation [15]. The composition of this fluid, known to play a critical role in the development of the follicle, has profound reproductive and pathogenic implications.
FF is initially derived from, and is similar in composition to, thecal capillary serum [16–18]. As the follicle develops, granulosa cells produce large polysaccharides, hormones, and growth factors which cannot pass the 100 kDA follicle-blood barrier, causing an osmotic gradient which further increases FF volume [19, 20]. Ultimately, mature follicles in unstimulated women can contain as much as 1,000 fold higher levels of estrogen and progesterone than the serum, whereas other hormones such as follicle stimulating hormone (FSH) are not differentially concentrated [21]. Other potentially harmful factors, such as reactive oxygen species (ROS), have a physiologic window; their presence is required for embryo formation but particularly high levels within the FF are associated with poor embryo formation in IVF patients [22]. While FF components include hormones, fatty acids, inflammatory factors, reactive oxygen species, and growth factors, it is unclear what role these potentially anti-apoptotic and mutagenic components play in ovarian cancer pathogenesis [9, 10, 23].
Follicular fluid sources
Follicular fluid is often studied in the context of livestock reproduction, and abattoirs provide a readily available source of whole ovaries and fallopian tubes. While valuable research has been obtained using non-human models, the advantages of increased follicle volume and sample availability must be considered against the limited relevance of working with non-human FF [24]. Humans are the only known mammals to develop ovarian cancer naturally, and the levels of major hormones in cow and camel follicles is known to be several orders of magnitude lower than their human counterparts [25, 26]. Domesticated laying hens, despite being oviparous, provide a unique model in that they are extremely susceptible to ovarian cancer and reflect several aspects of human disease [27]. Thus, a close examination of human FF, though harder to obtain and manipulate, is most relevant to studying the relationship between FF composition and ovarian cancer pathogenesis in humans.
Many recent studies have been conducted on the composition of human FF to assess conditions which are linked to ovarian cancer risk, as well as the efficacy and prognostic value of various
in vitro
fertilization (IVF) methods. This review gathers the most recent studies where human FF factors have been measured and comprehensively examines their fluctuation both under normal conditions and due to various conditions or treatments which are linked to HGSOC risk, and any role they may play in cancer pathogenesis (Table
1
). Ultimately, developing a better understanding of FF and its hormonal composition will illuminate its potential role in ovarian cancer pathogenesis.
Table 1
FF factors and their role in follicle development and cancer pathogenesis
| Factor | Role in follicle development | Potential role in pathogenesis | Mouse knockout model effect |
| --- | --- | --- | --- |
| Estradiol | Follicle development (specifically mid-follicular to pre-ovulatory phases) [28, 29] | Direct proliferatory effect [32], free radical generation [32], epidemiological risk factor for breast and uterine cancers [30] | Failure to develop mature follicles [28] |
| Progesterone | | Progestin containing oral contraceptives decrease ovarian cancer risk [41] | Failure to ovulate [28] |
| Androgens | Stimulates early follicle development [28] | Unknown | Decrease in fertility, granulosa cell number [28] |
| FSH | Stimulation of primordial follicles, dominant follicle selection [45] | Hormonal regulator of estrogen, progestrone, testosterone, FSH and its signaling pathways highly expressed in OVCAR cell lines [46, 51] | Failure to ovulate, failure of primordial follicles to mature [46] |
| AMH | Inhibits primordial follicle growth [56]. | Promotes growth and differentiation [54], elevated in granulosa cell tumors [62]. Unlikely player in HGSOC as matched controls have no difference in serum AMH, no correlation to stage or prognosis [63] | Fertile but with shorter period of fertility [56] |
| LH | Supports thecal steroidogenesis, induces ovulation and corpus luteum formation [64] | Promotes angiogenesis in EOC through PI3K/AKT-mTOR pathway, inhibits apoptosis and cisplatin mediated apoptosis in EOC [69, 70] | Atrophied ovaries, hypogonadism, malformed antral follicles, no corpus lutea [66] |
The role of hormones in follicle development, fertility, and cancer pathogenesis
Conclusions
The hormonal profile of follicular fluid is complex and constantly in flux, changing dramatically over the course of follicle development, as well as throughout a woman's lifetime depending on her age, health status and fertility. Understanding the hormonal microenvironment of ovulation is critical to establishing a molecular link between incessant ovulation and early ovarian cancer pathogenesis. While studying the role of hormones in ovulation is important, no less important is the role of hormones in the transition to menopause, when ovarian cancer is typically diagnosed. Why this disease so often manifests itself after risk factors such as ovulation have come to an end, and when supposedly protective progesterone levels have risen and likely damaging estrogen levels are low is a puzzle at the crux of the ovarian cancer problem [21, 35]. In the efforts to understand disease onset, cessation of ovulation and the hormonal milieu accompanying it will be as important as ovulation itself.
Currently, one of the most promising leads providing a molecular basis for the contribution of FF to ovarian cancer pathogenisis was reported by Bahar-Shany et al. [15]. Using human fallopian tube ex-vivo cultures and pooled human FF, they found that exposing fallopian tube epithelium to FF stimulated inflammatory and DNA repair pathways and resulted in the upregulation of pro-angiogenic and pro-inflammatory interleukin 8. They noticed that follicular fluid exposure led to DNA double stranded breaks and, consequently, the stabilization of the tumor suppressor TP53. Early precursors of high grade serous ovarian cancer are also defined by their high expression of TP53 and high levels of DNA damage, although in the vast majority of these cases TP53 is also mutated, often with a gain of function mutation [71]. Understanding the link between the temporary induction of TP53 in response to FF exposure and the aquisition of mutations in P53 in early precursor lesions will be key in the future of ovarian cancer research.
The role of hormones in the later stages of ovarian cancer is also a field ripe for study. The relationship between hormonal microenvironment and tumor is complicated, in no small part because the hormone receptors of many primary tumors and ovarian cancer cell lines have been inactivated either directly or indirectly. The lack of response to hormone signaling is evidenced by the largely unsuccessful use of hormonal therapy in ovarian cancer, especially compared to its sweeping successes in breast cancer [72, 73].
In the fight against ovarian cancer, many factors beyond the hormonal milieu play a role, and follicular fluid is by no means the sole initiator of tumorigenesis. Other theories, including telomere shortening [74, 75] have been proposed as well. Ultimately, providing the molecular link between epidemiologic risk factors and disease mechanisms will have broad implications not only for ovarian cancer, but for infertility and development as well.
Abbreviations
AMH:

Antimulerian hormone
AR:

Androgen receptor
E2:

Estradiol
EOC:

Epithelial ovarian cancer
FF:

Follicular fluid
FSH:

Follicle stimulating hormone
FT:

Fallopian tube
HGSOC:

High grade serous ovarian cancer
IVF:

In vitro fertilization
OSE:

Ovarian surface epithelium
P4:

Progesterone
PCOS:

Polycystic ovarian syndrome
rLH:

recombinant luteinizing hormone.
Declarations
Acknowledgements
The authors would like to thank Dr. Daniel Cramer, Dr. Raymond Anchan, and Dr. Kevin Elias for providing valuable insight and helping to edit the manuscript, and Michael Cooper (Cooper Graphics: http://www.cooper247.com) for medical illustration. This work was supported by grants from the National Institutes of Health (U01 CA152990, R21 CA156021, and P50 CA083636), the Dr. Miriam and Sheldon G Adelson Medical Research Foundation, the Honorable Tina Brozman Foundation, the Robert and Debra First Fund, and the Gamel Family Fund.
Authors' Affiliations
(1)
Department of Medical Oncology, Dana Farber Cancer Institute, Harvard Medical School, Boston, USA
Copyright
© Emori and Drapkin; licensee BioMed Central Ltd. 2014
This article is published under license to BioMed Central Ltd. This is an Open Access article distributed under the terms of the Creative Commons Attribution License (http://creativecommons.org/licenses/by/4.0), which permits unrestricted use, distribution, and reproduction in any medium, provided the original work is properly credited. The Creative Commons Public Domain Dedication waiver (http://creativecommons.org/publicdomain/zero/1.0/) applies to the data made available in this article, unless otherwise stated.