Normal and cancer stem cells of the human female reproductive system
Reproductive Biology and Endocrinology
2013
11:53
Received: 6 March 2013
Accepted: 16 May 2013
Published: 19 June 2013
Abstract
The female reproductive system (FRS) has a great capacity for regeneration. The existence of somatic stem cells (SSC) that are likely to reside in distinct tissue compartments of the FRS is anticipated. Normal SSC are capable of regenerating themselves, produce a progeny of cells that differentiate and maintain tissue architecture and functional characteristics, and respond to homeostatic controls. Among those SSC of the FRS that have been identified are: a) undifferentiated cells capable of differentiating into thecal cells and synthesizing hormones upon transplantation, b) ovarian surface epithelium stem cells, mitotically responsive to ovulation, c) uterine endometrial and myometrial cells, as clonogenic epithelial and stromal cells, and d) epithelial and mesenchymal cells with self-renewal capacity and multipotential from cervical tissues. Importantly, these cells are believed to significantly contribute to the development of different pathologies and tumors of the FRS.
It is now widely accepted that cancer stem cells (CSC) are at the origin of many tumors. They are capable of regenerating themselves, produce a progeny that will differentiate aberrantly and do not respond adequately to homeostatic controls. Several cell surface antigens such as CD44, CD117, CD133 and MYD88 have been used to isolate ovarian cancer stem cells. Clonogenic epithelial and stromal endometrial and myometrial cells have been found in normal and cancer tissues, as side population, label-retaining cells, and CD146/PDGF-R beta-positive cells with stem-like features. In summary, here we describe a number of studies supporting the existence of somatic stem cells in the normal tissues and cancer stem cells in tumors of the human female reproductive system.
Keywords
Stem cellsCancer stem cellsHumanFemaleReproductive biology
Background
Somatic stem cells (SSC) share three common features; i) generate identical cells retaining this capacity over long periods (referred as long-term self-renewal), ii) produce a progeny that differentiates into mature cells exhibiting specialized functions, iii) respond to homeostatic controls regulating decision to self renew or produce differentiating progenitors. Contrary, cancer stem cells (CSC) although self-renew, generate a progeny that differentiates albeit aberrantly, and fail to properly respond to homeostatic controls. CSCs can be defined experimentally by their ability to recapitulate a continuously growing tumor.
Existence of stem cells within distinct tissue compartments of the FRS is well documented, as the contribution of CSCs in the development of different neoplasias (Figure
1
). Experimental strategies for isolation and identification of cancer stem cells, as well as major tumor types originating within the FRS together with genetic mutations and clinical treatments are shown (Table
1
). We present evidences based in an extensive description of markers expression and functional assays (Table
2
) supporting existence of both normal and cancer stem cells in the human FRS, as well as their role in the normal physiology and gynecological pathologies.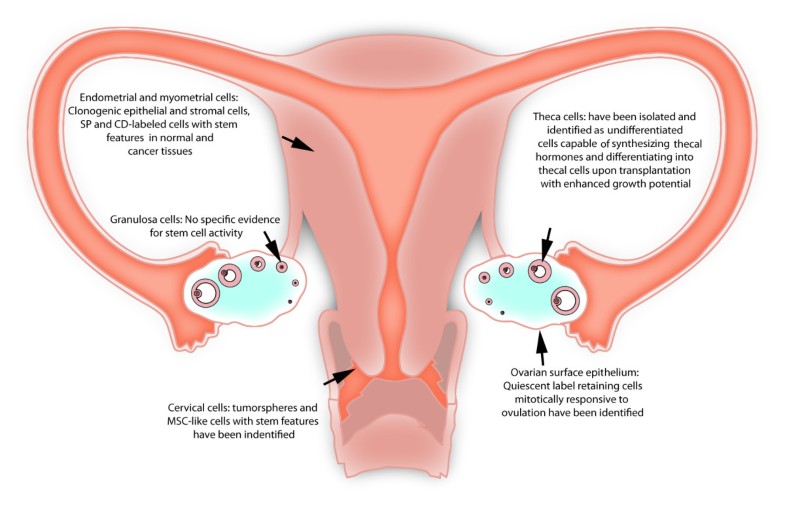 Table 1
Major tumor types in gynaecological cancer; genetic mutations and clinical treatments
Organ

Common tumor type

Mutations

Treatment

Ovary[12]

Ovarian epithelial carcinoma

Loss of heterozygosity of PTEN, P53, K-ras, HNPCC mutations. BRCA1 and 2 inactivating mutation. ABCG2 overexpression, β-Catenin expression

Early stage: Ovarian surgery. Rarely detected at an early stage, because there is no definitive marker, but a combined immunoassay with six markers [leptin, prolactin, osteopontin, insulin-like growth factor II, macrophage inhibitory factor and CA 125]. In addition, the use of kallikrein or protease M and osteopontin are helpful

Endometrioid, Serous, Clear cells, Transitional, Mucinous and Undifferentiated carcinoma

Endometriosis related tumor

Advanced stage: Platinum based chemotherapy and adjuvant radiotherapy

Adenofibroma, Tubal intraepithelial carcinoma

Novel Agents: Antiangiogenic agents, Tyrosine kinase, SRC and PARP-1 inhibitors.

Germ cell tumor

Uterus[28]

Endometrial carcinoma type I [estrogen] and II [no estrogen related], Adenocarcinoma Sarcoma

PTEN inactivation, K-ras, P53 and P16 mutations, Microsatellite instability, HER-2/neu overexpression

Early stage: Hysterectomy, bilateral salpingoophorectomy and pelvic and periaortic lymph node dissection. Hormonal therapy with Progesterone in the form of an intrauterine device [IUD], cyclic progesterone or Megace

Myometrium cancer

Advanced and/or recurrent stage: Chemotherapy with doxorubicin, paclitaxel and the platinum agents

Leiomyoma [Commonly benign smooth muscle tumor]

Adjuvant radiation. Hormonal Therapy with medroxyprogesterone

Endometrial cancer in advanced stage with myometrial invasion

Novel Agents: Ephotilones, Mammalian target of Rapamycin [mTOR] Inhibitors, Angiogenesis inhibitors. Myomectomy, and/or advanced stage treatments

Cervix[29]

Cervical carcinoma

K-ras mutations Carbonic anhydrase

Early stage: Laparotomic lymphadenectomy Radical trachelectomy, Hysterectomy. Adjuvant and neoadjuvant platinum-based chemotherapy. Local radiotherapy

Squamous-cell, adenocarcinoma, adenosquamous and small-cell carcinoma

IX [CAIX], CAXII, hypoxia-inducible factor 1α, and VEGF upregulation

Advanced and/or recurrent stage: Adjuvant Chemotherapy

Deregulated expression of E6 and E7 viral oncogenes

Novel Agents:Genome wide expression arrays, MiRNAs, Hyperbaric oxygenation for tumour sensitisation to radiotherapy.
Table 2
Markers of cancer stem cells of the female reproductive system
Tumor type

Marker

References

Ovarian cancer

SP+

Szoket, 2006 [2]

Clonogenic cells

Bapat, 2005 [3]

CD44+, CD117+

Zhang, 2008 [4]

CD133+

Curley, 2009 [5]

Baba, 2009 [6]

Ferrandina, 2008 [7]

Kusumbe, 2009 [9]

CD44+, MYD88+

Alvero, 2009 [8]

Uterine cancer

Clonogenic cells

Hubbard, 2009 [24]

SP+

Friel, 2008 [25]

Kato, 2010 [26]

Cervical cancer

p63 y CK17

eliminated

Nanog, Musashi-1, Nucleostemin

Ye, 2008 [30]

Spheres, ALDH1, CD44

Li, 2011 [33]

Spheres-CD49f

Li, 2011 [33]

Spheres

López, 2012 [32]

ALDH1

Gu, 2011 [34]

CD44
Conclusions
Stem cells play a pivotal role in the physiology of the normal FRS and are likely to be involved in the response of these tissues to injury and disease. Many studies have provided strong evidence for the existence of SSCs in the human endometrium and ovary. However, stem cell biology of the human FRS is still in its infancy, and although surface markers for prospective isolation of human endometrial colony-forming cells have been identified, there remains a need to identify definitive markers for more selective isolation and enrichment of stem cells from all tissues and organs of the FRS. Complete characterization of these stem/progenitor cells will improve our understanding of the mechanisms supporting physiological regeneration of the FRS. Additionally, further investigations are needed to evaluate the clinical correlation between CSC population features, poor prognosis and progression free survival. Moreover, is important to establish the functional relationship between markers, since it is known that some are also widely expressed and shared by normal tissues and stem cells. Therapeutic approaches that directly target these molecules may be limited and more concerns about specific effects need to be considered. Animal transgenic and xenografts model systems also need to be implemented in order to examine the hallmark characteristics of FRS stem cells and shared by all stem cells, i.e., potential for self-renewal, lineage differentiation and homeostatic control. Such studies will enhance our understanding of ovarian, uterine and cervix cancer and may prove helpful in the treatment of these conditions.
Declarations
Acknowledgements
Authors acknowledge generous grant support from Instituto de Ciencia y Tecnología del Gobierno del Distrito Federal (ICyT-GDF; GI/PIFUTP08-142 to AGC), Consejo Nacional de Ciencia y Tecnología-México (CONACYT-México grants No. 80338 to FJVM and No. 127722 to AGC), Programa de Apoyo a Proyectos de Investigación e Innovación Tecnológica de la Universidad Nacional Autónoma de México (PAPIIT-UNAM; IN226408 to AGC), and División de Investigación Básica del Instituto Nacional de Cancerología, Secretaría de Salud.
Authors' Affiliations
(1)
Programa de Doctorado en Ciencias Bioquímicas, Facultad de Química, Universidad Nacional Autónoma de México, Mexico City, Mexico
(2)
Facultad de Química, Biología de la Reproducción, Universidad Nacional Autónoma de México, Mexico City, Mexico
(3)
Unidad de Investigación Médica en Enfermedades Oncológicas, Hospital de Oncología, Centro Médico Nacional Siglo XXI IMSS, Mexico City, Mexico
(4)
Unidad de Investigación Biomédica en Cáncer, Instituto de Investigaciones Biomédicas, Universidad Nacional Autónoma de México, Mexico City, Mexico
(5)
División de Investigación Básica, Instituto Nacional de Cancerología, Secretaría de Salud, Mexico City, Mexico
Copyright
© López et al.; licensee BioMed Central Ltd. 2013
This article is published under license to BioMed Central Ltd. This is an Open Access article distributed under the terms of the Creative Commons Attribution License (http://creativecommons.org/licenses/by/2.0), which permits unrestricted use, distribution, and reproduction in any medium, provided the original work is properly cited.