Correction to: Entry into puberty is reflected in changes in hormone production but not in testicular receptor expression in Atlantic salmon (Salmo salar)
Reproductive Biology and Endocrinology volume 17, Article number: 57 (2019)
Correction to: Reprod Biol Endocrinol
https://doi.org/10.1186/s12958-019-0493-8
Following publication of the original article [1], the authors would like to apologize for an error in Fig. 5e, the correct graph is presented below and shows the significant increase in pituitary mRNA levels of fshb in recruited males in the SGA stage.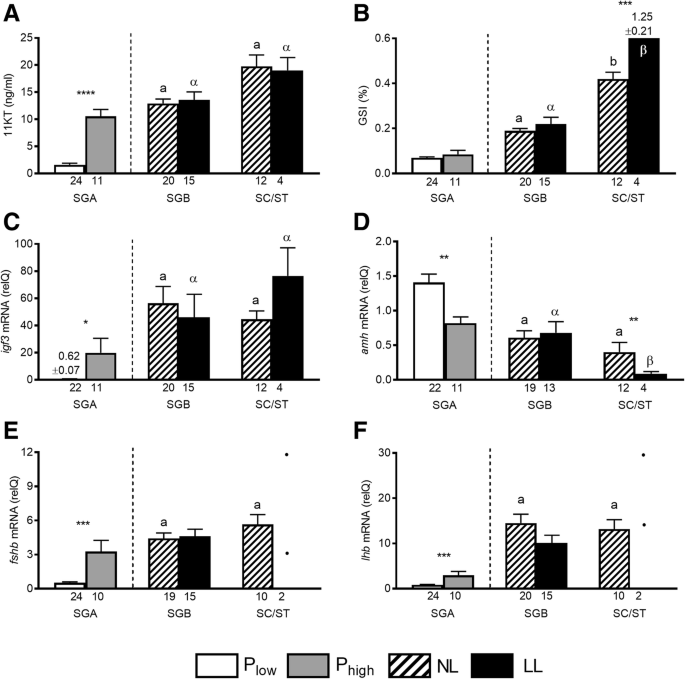 The authors regret any inconvenience caused.
Reference
Schulz RW, Taranger GL, Bogerd J, Nijenhuis W, Norberg B, Male R, Andersson E. Entry into puberty is reflected in changes in hormone production but not in testicular receptor expression in Atlantic salmon (Salmo salar). Reprod Endocrinol Biol. 2019;17(48) https://doi.org/10.1186/s12958-019-0493-8.
Rights and permissions
Open Access This article is distributed under the terms of the Creative Commons Attribution 4.0 International License (http://creativecommons.org/licenses/by/4.0/), which permits unrestricted use, distribution, and reproduction in any medium, provided you give appropriate credit to the original author(s) and the source, provide a link to the Creative Commons license, and indicate if changes were made. The Creative Commons Public Domain Dedication waiver (http://creativecommons.org/publicdomain/zero/1.0/) applies to the data made available in this article, unless otherwise stated.
About this article
Cite this article
Schulz, R.W., Taranger, G.L., Bogerd, J. et al. Correction to: Entry into puberty is reflected in changes in hormone production but not in testicular receptor expression in Atlantic salmon (Salmo salar). Reprod Biol Endocrinol 17, 57 (2019). https://doi.org/10.1186/s12958-019-0503-x
Published:

DOI: https://doi.org/10.1186/s12958-019-0503-x