Vitamin D - roles in women's reproductive health?
Reproductive Biology and Endocrinology
2011
9:146
Received: 13 September 2011
Accepted: 2 November 2011
Published: 2 November 2011
Abstract
In the past few years a growing interest in vitamin D can be observed in the lay and biomedical literature due to findings demonstrating a low vitamin D status in the population. In addition to its importance for the regulation of calcium and phosphorus homeostasis recent epidemiologic studies have observed relationships between low vitamin D levels and multiple disease states. This secosteroid hormone also regulates the expression of a large number of genes in reproductive tissues implicating a role for vitamin D in female reproduction. In this report we summarize the recent evidence that vitamin D status influences female reproductive and pregnancy outcomes. Human and animal data suggest that low vitamin D status is associated with impaired fertility, endometriosis and polycystic ovary syndrome. Evidence from observational studies shows higher rates of preeclampsia, preterm birth, bacterial vaginosis and gestational diabetes in women with low vitamin D levels. However, confirmation of experimental observations establishing an association of vitamin D deficiency with adverse reproductive outcomes by high quality observational and large-scale randomized clinical trials is still lacking. The determination of optimal 25(OH)D3 levels in the reproductive period and the amount of vitamin D supplementation required to achieve those levels for the numerous actions of vitamin D throughout a woman's life would have important public health implications.
Keywords
vitamin Dwomen's healthreproductionfertilitypregnancy
Background
In North America and Western Europe only small amounts of vitamin D, a fat-soluble secosteroid hormone, enter the metabolic circle via dietary uptake (e.g. from fish), although dietary supplement intake has increased in recent years (Figure
1
). The main source (about 95%) is vitamin D
3
(cholecalciferol) that is photochemically synthesized in the skin by ultraviolet-B radiation. Thermal conversion of pro-vitamin D
3
(7-dehydrocholesterol) leads to pre-vitamin D
3
, which isomerizes into cholecalciferol. Cholecalciferol is bound to serum vitamin D-binding protein (DBP) and through a two-step enzymatic pathway involving 25-hydroxylase of the liver and 1α-hydroxylase (CYP27B1) of the kidney and extrarenal tissues, it is converted to the biologically active hormone calcitriol (1α,25(OH)
2
D
3
) [
1
]. In a wide variety of cell types vitamin D exerts its effects by binding to the vitamin D receptor (VDR), a member of the nuclear steroid receptor superfamily and an intracellular transcription factor [
2
]. The regulation of VDR expression is one of the main mechanisms through which target cells respond to calcitriol so that polymorphisms of this receptor can change the usual mode of functioning.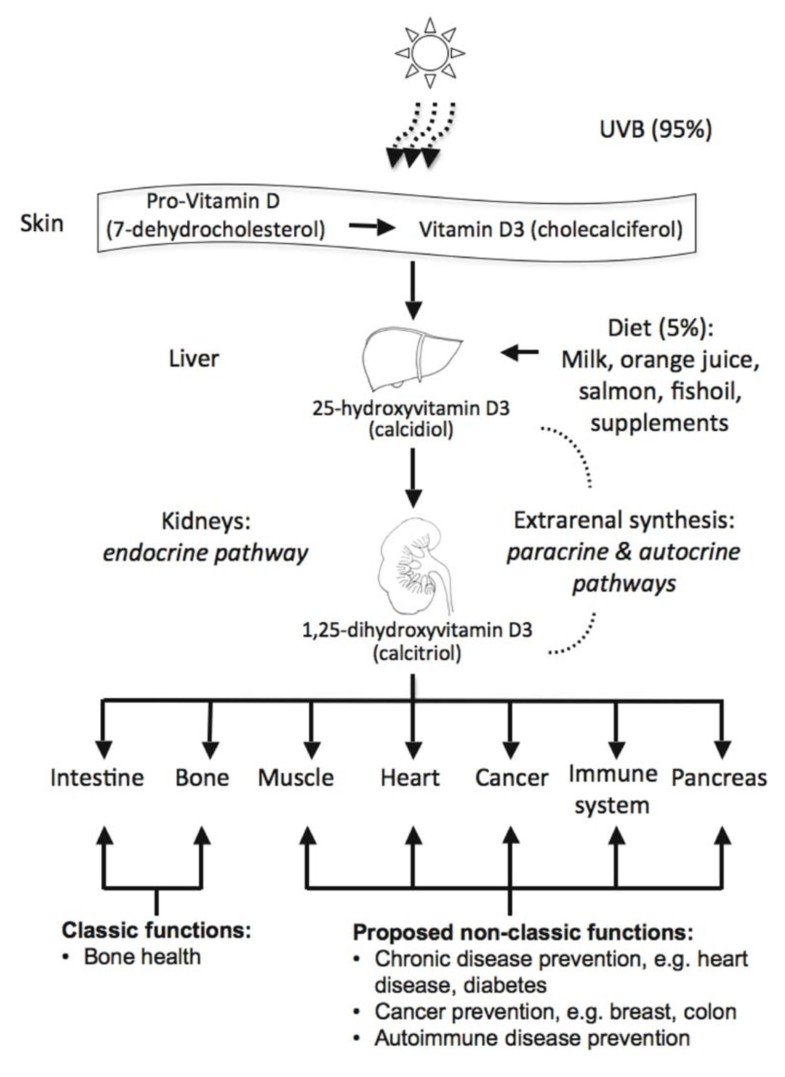 Although 1,25(OH)2D3 is the biologically active form of vitamin D the vitamin D status is mainly assessed by the measurement of serum 25(OH)D3 concentration. The test is used due to associations between vitamin D, calcium and plasma parathyroid hormone (PTH) [3, 4]. While becoming vitamin D deficient the parathyroid glands increase the secretion of PTH to accelerate renal calcium reabsorption and calcium release from bone. Another effect of PTH is the stimulation of renal 1,25(OH)2D3 production with possibly misleading 1,25(OH)2D3 concentrations within the normal range.
Based on associations between plasma 25(OH)D
3
and PTH concentration, calcium absorption, bone turnover markers, and bone mineral density, investigators have argued that a plasma 25(OH)D
3
concentration of greater than 75 nmol/l (to convert to ng/ml divide by 2.5) is appropriate to define vitamin D sufficiency [
5
–
7
]. Precisely defining vitamin D deficiency or insufficiency is still a matter of great debate. A rather simplistic scheme for the classification of vitamin D status is shown in Figure
2
. Although there is currently no consensus for optimal levels, most experts use a plasma concentration of 25(OH)D
3
of 25 nmol/l as a conventional cut-off for defining the lower limit of adequacy of vitamin D status [
8
]. These cutoffs were derived from populations of non-pregnant individuals. However, recent evidence demonstrates that the prevalence of vitamin D deficiency in women of childbearing age is surprisingly high [
9
–
12
].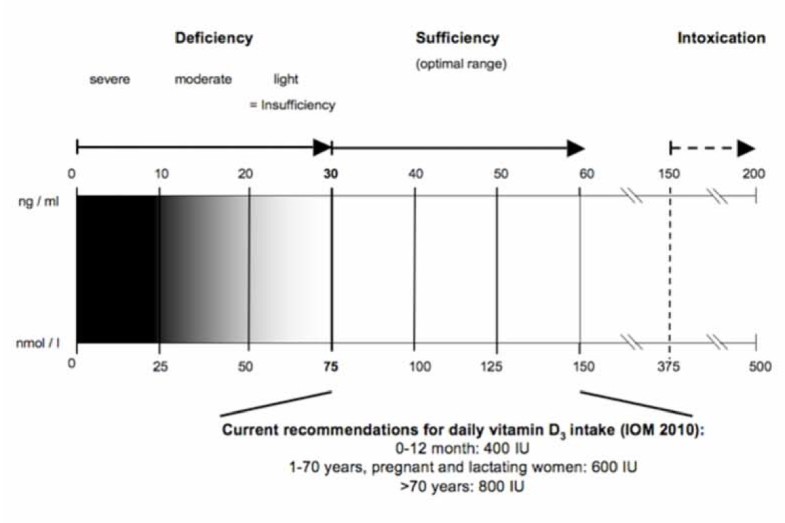 Vitamin D plays a pivotal role in bone metabolism and mineral homeostasis. Emerging data identify critical roles for the active form of vitamin D (1α,25(OH)
2
D
3
) in a variety of other biological processes including regulation of cellular growth, differentiation and metabolic modulations [
13
,
14
]. Beneficial roles for vitamin D in a spectrum of pathologic processes, including autoimmunity, insulin resistance, cardiovascular disease, and malignancies, are emerging concomitantly with the appreciation of a global pandemic of vitamin D deficiency (Figure
3
) [
5
,
13
,
14
]. Over the past decade the physiological role of 1α,25(OH)
2
D
3
has been investigated extensively [
15
], but data regarding its role in human reproduction are scarce [
16
–
18
]. Since the VDR and 1α-hydroxylase are expressed in reproductive tissues including ovary, uterus, placenta, testis and hypophysis an association with vitamin D and many potential pathways linking vitamin D to reproductive health outcomes almost suggests itself [
19
–
21
].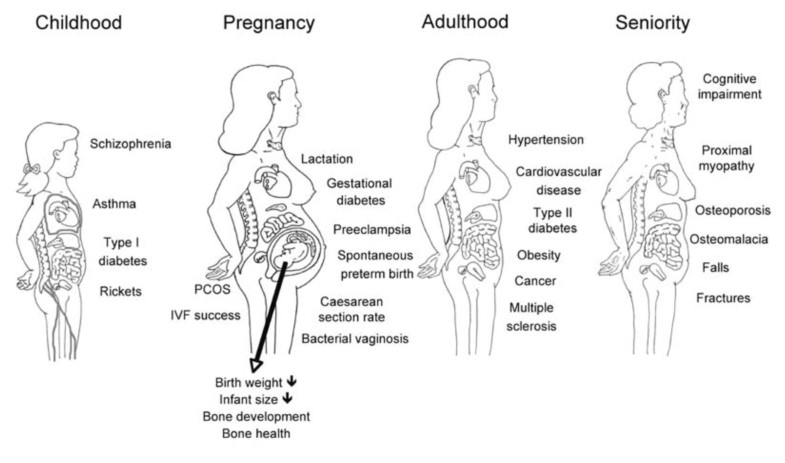 The aims of this review are to critically summarize the most recent data regarding the association of vitamin D deficiency and female reproductive outcomes. We searched the PubMed and MEDLINE up to August 20 2011 using combinations of the following keywords: vitamin D deficiency/insufficiency and pregnancy, reproduction, fertility/infertility, polycystic ovary syndrome, endometriosis, preeclampsia, gestational diabetes, preterm birth and bacterial vaginosis. Randomized controlled trials, original papers and review articles are included in the present article.
Health implications of vitamin D deficiency in female reproduction
Conclusions
Vitamin D deficiency is still considered a problem of the past by health care professionals and the public. Populations at risk include infants, children, pregnant and postmenopausal women. We have reviewed the existing evidence for a range of possible adverse health outcomes during a women's reproductive period that may relate to low vitamin D status. Besides the classical diseases such as rickets, osteoporosis and osteomalacia, vitamin D deficiency in women might be associated with lower fertility and an increased risk for adverse pregnancy outcomes. Most of the findings in humans are associations or based on animal and laboratory studies and can therefore not determine causality. Available scientific data are limited and well-conducted clinical trials are still lacking. Contradictory results can be explained not only by methodological differences. Genetic, ethnic and racial differences as well as latitude of residence and season may account to the observed discrepancies in several reproductive health outcomes. Vitamin D deficiency is often clinically unrecognized, however laboratory measurements are easy to perform, and treatment of vitamin D deficiency is inexpensive. Oral supplementation is the best-tolerated and the most effective route of administration. At this point optimal levels of 25(OH)D3 for the non-classical actions of vitamin D in the reproductive period are not clear. Pressing questions awaiting an answer include the optimal level of vitamin D in women during their reproductive period and especially in pregnancy to achieve maximal benefit for mother and fetus and whether vitamin D supplementation started preconceptionally is protective against preeclampsia and other adverse pregnancy outcomes. High quality, large-scale RCTs are required to determine the optimal 25(OH)D3 levels in the reproductive period and the amount of vitamin D supplementation required to achieve those levels for the numerous actions of vitamin D throughout a woman's life. Confirmation of experimental observations relating to the risk of vitamin D deficiency would have important public health implications.
Abbreviations
CYP27B1:

1α-hydroxylase
DBP:

vitamin D-binding protein
GDM:

gestational diabetes
IOM:

Institute of Medicine
IVF:

in vitro-fertilization
PCOS:

polycystic ovary syndrome
PTH:

parathyroid hormone
PE:

preeclampsia
RCT:

randomized clinical trial
SPB:

spontaneous preterm birth
VDR:

vitamin D receptor
Declarations
Acknowledgements
We thank Mrs. Friederike Ritter for her support creating figure 3 and Robert Powers, PhD and Carl Hubel PhD, Magee-Womens Research Institute, Pittsburgh, PA, for their helpful suggestions concerning this manuscript.
Authors' Affiliations
(1)
Department of Obstetrics, Gynecology and Reproductive Medicine, Hannover Medical School, Hannover, Germany
Copyright
© Grundmann and von Versen-Höynck; licensee BioMed Central Ltd. 2011
This article is published under license to BioMed Central Ltd. This is an Open Access article distributed under the terms of the Creative Commons Attribution License (http://creativecommons.org/licenses/by/2.0), which permits unrestricted use, distribution, and reproduction in any medium, provided the original work is properly cited.