Vasodilator factors in the systemic and local adaptations to pregnancy
Reproductive Biology and Endocrinology
2009
7:79
Received: 15 June 2009
Accepted: 31 July 2009
Published: 31 July 2009
Abstract
We postulate that an orchestrated network composed of various vasodilatory systems participates in the systemic and local hemodynamic adaptations in pregnancy. The temporal patterns of increase in the circulating and urinary levels of five vasodilator factors/systems, prostacyclin, nitric oxide, kallikrein, angiotensin-(1–7) and VEGF, in normal pregnant women and animals, as well as the changes observed in preeclamptic pregnancies support their functional role in maintaining normotension by opposing the vasoconstrictor systems. In addition, the expression of these vasodilators in the different trophoblastic subtypes in various species supports their role in the transformation of the uterine arteries. Moreover, their expression in the fetal endothelium and in the syncytiotrophoblast in humans, rats and guinea-pigs, favour their participation in maintaining the uteroplacental circulation. The findings that sustain the functional associations of the various vasodilators, and their participation by endocrine, paracrine and autocrine regulation of the systemic and local vasoactive changes of pregnancy are abundant and compelling. However, further elucidation of the role of the various players is hampered by methodological problems. Among these difficulties is the complexity of the interactions between the different factors, the likelihood that experimental alterations induced in one system may be compensated by the other players of the network, and the possibility that data obtained by manipulating single factors in vitro or in animal studies may be difficult to translate to the human. In addition, the impossibility of sampling the uteroplacental interface along normal pregnancy precludes obtaining longitudinal profiles of the various players. Nevertheless, the possibility of improving maternal blood pressure regulation, trophoblast invasion and uteroplacental flow by enhancing vasodilation (e.g. L-arginine, NO donors, VEGF transfection) deserves unravelling the intricate association of vasoactive factors and the systemic and local adaptations to pregnancy.
Keywords
Nitric OxideVascular Endothelial Growth FactorPreeclampsiaUterine ArteryExtravillous Trophoblast
Background
In primates adequate development of the embryo, and later of the fetus, depends on a successful hemomonochorial placentation. This is achieved firstly, by the adaptation of the uterine vessels to pregnancy, with colonization of the uteroplacental arteries by the extravillous trophoblast cells[1, 2], and secondly, by the creation of the fetoplacental vascular network of the placental villi from haemangioblastic precursor cells[3, 4]. In addition, the systemic maternal circulation adapts to favor uteroplacental perfusion, through increases in plasma volume and cardiac output[5, 6].
In this setting the normotension of approximately 90% of human pregnancies, the blood pressure decrement of the second trimester[7], and the reductions in peripheral resistance[8] and sensitivity to angiotensin II[9] are hard to understand. With the belief that an orchestrated conjunction of the various vasodilatory systems participates in the systemic and local hemodynamic adaptations in pregnancy, we have strived to understand their localization, modulation, and potential role. In the following review, a brief description of the main vasodilator systems/agents and their interactions is given, followed by their systemic uterine and placental expression that support their participation in normal pregnancy.
General aspects of vasodilator systems
Association of the vasodilator systems to the maternal systemic adaptations to pregnancy
Prostanoids were the first endogenous vasoactive factors studied in pregnancy[33, 34], and rapidly prostacyclin and thromboxane became the main protagonists of this system [34–36]. For more than 20 years there has been evidence that in normal pregnancy urinary metabolites of prostacyclin increase progressively, attaining up to 5-fold rise during the last month of pregnancy. As this elevation is not associated to changes in the urinary excretion of thromboxane B2, the balance favors the vasodilator versus the vasoconstrictor balance of this vasoactive pair [37]. In women with severe preeclampsia the urinary excretion of the prostacyclin metabolites is lower than in normotensive women during the last trimester of pregnancy, while thromboxane levels are unchanged, shifting the balance to the debit of the vasoconstrictor and procoagulant TXA2. This imbalance, now attributed to an increment in lipid peroxidation and a decrement of scavengers[38], is thought to contribute to the main features of preeclampsia, including hypertension, platelet aggregation, and reduced uteroplacental blood flow. A large scale prospective study shows that the preeclamptic women have lower urinary excretion of prostacyclin metabolites as early as weeks 13 to 16, which yielded a consistently higher thromboxane/PGI2 ratio starting at week 16; however, higher TXA2 levels observed after 21 weeks have been interpreted as a secondary event[39].
Following the discovery that prostacyclin and thromboxane levels are disturbed in the maternal circulation in preeclampsia, a number of centers have performed clinical trials with low dose aspirin, believing that treatment with cyclooxygenase inhibitors could prevent or ameliorate the disorder by reducing platelet TXA2 production while sparing endothelial PGI2 synthesis. Reduction in the incidence of preeclampsia in large scale trials are modest (e.g. 12% in CLASP[40]), suggesting that there is more to preeclampsia than an increment of thromboxane production.
Nitric oxide biosynthesis is increased in pregnant rats, as evidenced by increased plasma and urinary levels of nitrate, and of urinary cGMP[41, 42]. In addition, the blockade of NO synthesis in animal models induces marked preeclampsia-like effects[43, 44]. Changes of nitrite/nitrate (NOx) levels in different conditions of human pregnancy have been discordant. The discrepancies have been partly attributed to the dependency between dietary intake and plasma and urinary levels; this can be circumvented by a reduction or and control of dietary intake[45]. Sampling under a reduced nitrite/nitrate (NOx) diet has demonstrated a decrease of plasma NOx in the first trimester. This is followed by a later rise to values in nonpregnant women, unchanged urinary NOx, and an increase of urinary cGMP (the second messenger of NO) in the second and third trimester. In preeclampsia plasma NOx and urinary cGMP are similar to normal pregnancy, while urinary NOx is reduced [45–47], so that unequivocal demonstration of a reduced NO synthesis is absent, probably due to lack of systemic or urinary translation of hemodynamically relevant NO production. Nevertheless, elevation of the plasma dimethylarginine (ADMA), an endogenous inhibitor of NOS, in the second trimester is associated with endothelial dysfunction, impaired uterine artery Doppler and the subsequent development of preeclampsia[48].
Valdés et al [50] originally hypothesized that the kallikrein-kinin system in pregnancy could represent a counterregulatory system to the renin-angiotensin system. However, neither the data obtained in the rat or in humans support the view of a contemporary counterregulation. In rats, urinary kallikrein – as a reflection of renal synthesis – rises from gestational day 4 onwards, while plasma renin activity is increased only at day 20, of a 21 to 22 gestation period[49]. In normal pregnant women a rise in urinary kallikrein precedes that of the vasoconstrictors, reaching its maximum between 8 to 12 weeks[50]. Reduced urinary kallikrein levels have been observed in hypertensive pregnancies[51, 52], and lower levels predict the preeclamptic syndrome as early as 16 weeks of pregnancy[53].
In normal pregnancy several findings support a predominance of the vasodilator effects of the renin-angiotensin-system, as opposed to an activation of its pressor actions in preeclampsia. Plasma renin activity (PRA) rises progressively along pregnancy, to attain levels 10-fold greater than non-gestational values[7]. In preeclampsia PRA, plasma renin concentration and plasma Ang II are reduced compared to normal pregnancy[52]. Although plasma Ang II concentrations are reduced, women who will develop preeclampsia show a heightened pressor response to Ang II infusion weeks in advance to the clinical manifestation of the syndrome, while this response is blunted in normotensive pregnant women[9]. Wallukat et al. have detected an autoantibody in the serum of preeclamptic patients that binds to the AT1 receptor and has agonist activity[54]. AT1-B2-receptor heterodimers, which lead to increased Ang II-mediated signalling in smooth-muscle, are highly increased on platelets and omental vessels from preeclamptic patients compared with normotensive pregnant women[55].
The generation of the recently described vasodilator Ang-(1–7) is activated in normal human pregnancy, as demonstrated by a progressive increase of urinary excretion of the peptide starting at 12–14 weeks, and of plasma levels that achieved in late gestation a 1.5-fold rise as compared to non-pregnant values[56, 57]. These elevations and the reduced plasma levels of the peptide observed in preeclampsia[57] suggest that this vasodilator exerts a role in the maternal hemodynamic adaptation to pregnancy. In contrast to human pregnancy, in the rat there is no significant change in plasma concentration of Ang (1–7) at the 19th day of pregnancy; however the renal concentration and the urinary excretion increase 5 and 1.6-fold respectively, as compared to virgin animals. In pregnant rats Ang-(1–7) enhanced the dilation of mesenteric vessels, while this effect was absent in the virgin females[58].
Total VEGF circulating levels increase approximately 30 days after embryo transfer, or at week 10 to 14 in spontaneous human pregnancies[59], and continue to rise until 34–36 weeks to a 5-fold increase as compared to postpartum values[60]. These findings suggest that apart from fulfilling an angiogenic effect in reproductive tissues, VEGF may be involved in maternal cardiovascular adaptation to pregnancy. Moreover, a bipolar release of VEGF to the maternal and fetal compartments has been documented in dually perfused human term placental lobules, with predominance of the release to the maternal side[61].
VEGF and plasma from women with preeclampsia induce a concentration-dependent increase in prostacyclin production in bovine endothelial cells, which is inhibited by VEGF antibody[62]. However, binding of VEGF to cell transmembrane receptors is reduced by a soluble circulating form of Flt-1 (sFlt-1), which is generated by alternative splicing. In humans circulating levels of sFlt1 are low in the non pregnant state, high in pregnancy, and extremely high in preeclampsia, probably deriving from an ischemic placenta[63, 64]. In this condition most VEGF is bound to the vast excess of circulating sFlt1, and free VEGF levels, which represent active VEGF, are substantially lower than those of total VEGF. In mice, transfection of the sFlt-1 gene generates a preeclampsia-like syndrome, with hypertension, proteinuria, and glomerular endotheliosis, even in the absence of pregnancy or a placenta[63].
The interferences with the activity of VEGF provide a strong support to its vasodilatory role. Moreover, this role is underscored by the effects of the enhancement of VEGF on uteroplacental perfusion. Uterine arteries of pregnant sheep overexpressing VEGF by adenoviral transfection tripled their blood flow in vivo, and in vitro decreased the response to phenylephrine while increasing bradykinin-induced relaxation[65].
The studies described above support the concept that several interrelated vasodilators are involved in the circulatory changes of pregnancy, probably providing partially redundant systems. It is tempting to speculate that the temporal profiles of the above mentioned vasodilator factors constitute relay systems, which in the changing endocrine milieu of gestation provide constant vasodilation in the mother. This assumption is supported by our finding that the decline in kallikrein throughout pregnancy is associated with a progressive rise of Ang-(1–7) (longitudinal measurements from the urine of 10 normotensive pregnancies[
50
,
66
]. (Figure
7
)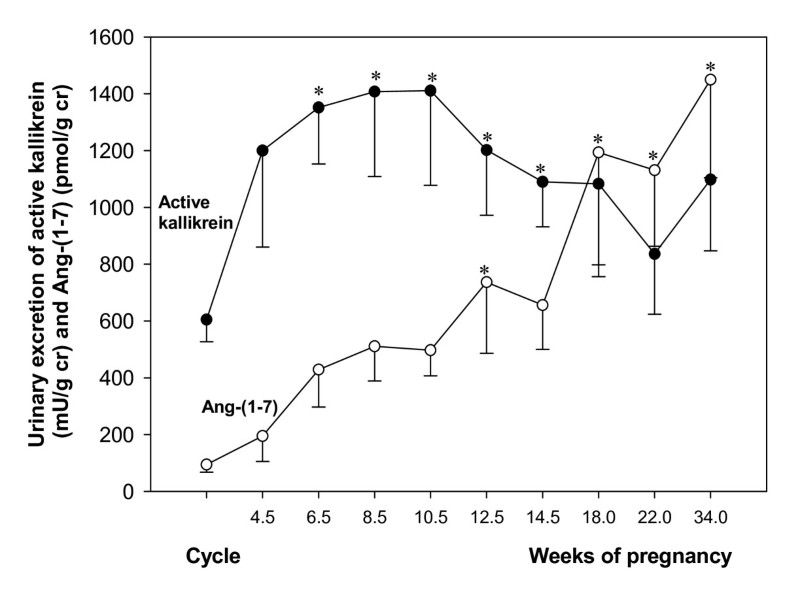 The functional relevance of maternal vasodilation is underscored by the association of preeclampsia and intra-uterine growth restriction (IUGR) with a reduced plasma volume in spite of elevated aldosterone levels, which precede the clinical onset of either disease[6, 67]. A potent vasodilatory effect on the mother is also supported by a marked intragestational reduction of pulmonary artery resistance in a patient with idiopathic pulmonary hypertension, which coincided with elevation of the urinary excretion of vasodilators[68].
Role of vasodilators in the local adaptation to pregnancy: 1. Animal studies
Three observations lead us to believe that, apart from participating in the systemic maternal hemodynamic changes, vasodilators may play a primordial role in the local uteroplacental adaptation to pregnancy: Firstly, increased vasodilation is observed in the implantation site[69, 70]. Secondly, decidual edema to facilitate invasion requires vasodilatory/hyperpermeability factors[71, 72] (e.g. VEGF, bradykinin). And finally, vasodilation of utero-placental arteries starts prior to trophoblast invasion of the latter [73–75]. In addition, the respective vasodilatory factors may be involved in regulating fetoplacental perfusion and in protecting the intervillous space and the fetoplacental vessels from platelet aggregation. A series of experiments in animals support this view.
Role of vasodilators in the local adaptation to pregnancy: 2. Studies in human reproductive tissues
The data obtained in animal experiments are supported by several descriptive findings and in vitro studies on human reproductive tissues.
Conclusion
The data listed above demonstrate that at least five different vasodilator systems are involved in the control of uteroplacental and fetoplacental hemodynamics throughout pregnancy, the vasodilator component of the renin-angiotensin system, the kallikrein-kinin system, prostacyclin, nitric oxide and VEGF. Several decades after Walsh proposed a balance between the vasoconstrictor thromboxane and the vasodilating prostacyclin to sustain normal pregnancy, the number of players in this delicate balance has expanded; furthermore the local balance has to be extended to that of maternal hemodynamics, as proposed by Wallenburg [
146
–
148
] (Figure
9
). The multiplicity of components that integrate the vasodilator surge of pregnancy probably exerts compensatory functions and provides finely tuned relay systems in the changes in the hormonal milieu of pregnancy, and in the oxygen tension of the intervillous space. Moreover, there is increasing evidence that the various vasodilator systems intensely interact, partly only modulating each other, partly even using parts of the other systems to exert their own function, e.g. VEGF stimulating eNOS activity and prostacyclin production. Some of these interactions seem to be specific for pregnancy, e.g. upregulation of prostacyclin by Ang II.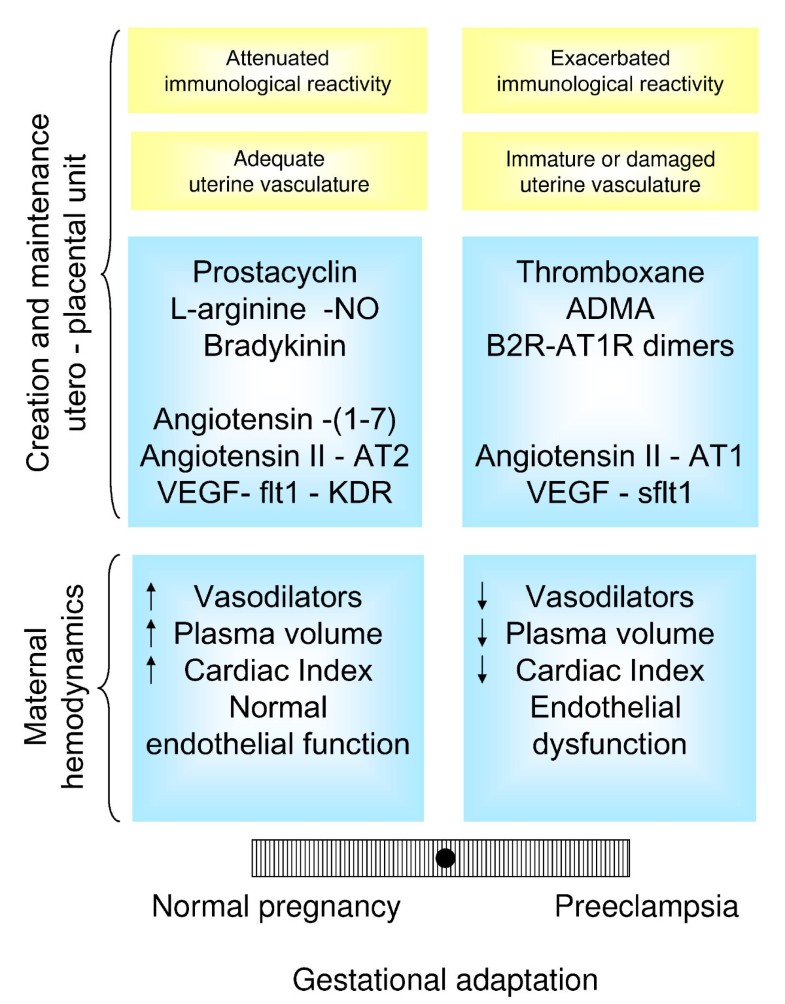 There are still uncertainties, contradictions and data, e.g.eNOS/NO, that seemingly do not fit into the picture of a functioning vasodilator network. This is mainly due to the fact that a more detailed analysis of the data is hampered by various problems: The environment, diet and genetics of the individuals studied. The estimation of activities of the involved factors, often based on semiquantification of immunoreactivities, Northern and Western blotting, must be generally interpreted with caution. The impossibility of early sampling in pregnancies that can be characterized as normal or preeclamptic at term, the restricted availability of normal human material from the second trimester, and the difficulties inherent to placental bed biopsies even at term are further obstacles when attempting to interpret longitudinal profiles of the various players. By contrast their circulating levels and urinary excretion data are reliable, but difficult to interpret because of the huge variety of potential sources of secretion/excretion. Finally, having in mind the complexity of the vasodilator network, in vitro studies on human tissues and experimental manipulation of single factors in animal studies do not only bear the danger that data may be difficult to translate to the human; moreover, it would not be surprising if experimental alterations induced in one system are compensated by the interacting with other players of the network. The same, of course, is valid when studying serum or urine data from patients from pregnancy disorders with or without treatment.
In spite of these caveats, the data provided by many groups suggest that preeclampsia is a typical example of a disorder in which the balance between vasoconstrictor and vasodilator systems, and possibly even the balance within the vasodilator network, is disturbed (Figure 8). This by no means implies that a deranged vasoconstrictor/vasodilator balance is sufficient to explain the pathogenesis of preeclampsia. It is clear that cell biological interactions between invading trophoblast and uteroplacental arterial walls, general problems of the uterine or even systemic vasculature of the mother, as well as the immunological interaction between mother and her semiallograft, provide alternative underlying pathogenetic mechanisms.
Authors' informations
PK is a placental morphologist and pathologist, who has coauthored the five editions of Pathology of the human placenta (eds. Benirschke K, Kaufmann P, Baergen RN. Pathology of the human placenta. New York:Springer), KBB and JC have contributed to the findings of the novel vasodilatory arm of the renin-angiotensin system and to the study of the kallikrein-kinin system respectively, and GV combines the management of hypertensive pregnant women with research in vasoactive factors in pregnancy.
Declarations
Acknowledgements
We are indebted to Cecilia Chacón, Liomar Neves and Lauren Anton for collaborating in studies included in this review. These studies were supported by grants from Fondo Nacional de Ciencia y Tecnología (Fondecyt) 1080228, Chile and from National Institutes of Health, USA.
Authors' Affiliations
(1)
Centro Investigaciones Médicas y Departamento Nefrología, Escuela Medicina Pontificia Universidad Católica, Santiago, Chile
(2)
Department of Anatomy, School of Medicine, University of Technology, Aachen, Germany
(3)
Hypertension and Vascular Research Center, Wake Forest University Health Sciences, Winston-Salem, USA
Copyright
© Valdes et al; licensee BioMed Central Ltd. 2009
This article is published under license to BioMed Central Ltd. This is an Open Access article distributed under the terms of the Creative Commons Attribution License (http://creativecommons.org/licenses/by/2.0), which permits unrestricted use, distribution, and reproduction in any medium, provided the original work is properly cited.