Lifelong testicular differentiation in Pleurodeles waltl(Amphibia, Caudata)
Reproductive Biology and Endocrinology
2009
7:21
Received: 10 December 2008
Accepted: 05 March 2009
Published: 05 March 2009
Abstract
Background
In numerous Caudata, the testis is known to differentiate new lobes at adulthood, leading to a multiple testis. The Iberian ribbed newt Pleurodeles waltl has been studied extensively as a model for sex determination and differentiation. However, the evolution of its testis after metamorphosis is poorly documented.
Methods
Testes were obtained from Pleurodeles waltl of different ages reared in our laboratory. Testis evolution was studied by several approaches: morphology, histology, immunohistochemistry and RT-PCR. Surgery was also employed to study testis regeneration.
Results
In this species, the testis is linked to the lung. This association consists of connective tissue derived from the mesorchium and the coelomic epithelium surrounding the lung and takes place at the end of larval life. This tissue contains lobules including primordial germ cells with a typical large and polylobular nucleus. The anterior part of the testis remains thin and undifferentiated while the posterior part differentiates in a large first testis lobe where spermatogenesis occurs during the first year of life. The undifferentiated status of the anterior part is attested by the lack of expression of the testis marker Dmrt1 and the meiosis entry marker Dmc1. Three-year-old Pleurodeles waltl possess multiple testes made up of two lobes. The second lobe appears at the caudal extremity of the first one from residual primordial germ cells located near or even inside efferent ducts in the glandular tissue that usually appears following spermatozoa extrusion. Surprisingly, in the case of surgical elimination of the anterior part of the testis, de novo spermatogenesis is stopped in the first lobe which becomes restricted to the glandular tissue. Following first testis lobe removal, the anterior part of the testis regenerates a new testis lobe, a process stimulated in the presence of DHT.
Conclusion
Pleurodeles waltl constitute an original gonochoristic vertebrate model in which testis differentiation is observed up to adulthood.
Keywords
Germ CellProliferate Cell Nuclear AntigenSertoli CellAnterior PartPrimordial Germ Cell
Background
Like in most vertebrate species, ovarian or testis differentiation in amphibians takes place from an undifferentiated bipotential organ. Two areas can be observed in the undifferentiated gonad [1]. At the periphery, the cortex corresponds to the coelomic epithelium colonized by primordial germ cells that originate from an extragonadal region. In the central part of the organ, there is the medulla derived from the mesonephros blastema. The ovary differentiates as an ovisac since germ cells stay in the cortex where they proliferate and together with somatic cells, constitute follicles whereas medulla regression generates a cavity. During testis differentiation, germ cells migrate from the cortex towards the medulla where they associate with Sertoli cells in units named cysts that are themselves included in lobules. The cortex devoid of germ cells becomes albuginea, the testis envelope. In amphibians, as well as in non-mammalian vertebrates, steroids play an important role during gonad differentiation which can be modified by experimental hormonal treatments [2, 3]. Indeed, sex reversal occurs following hormonal treatment performed during the hormone-sensitive period: estradiol can induce a complete male to female sex reversal whereas dihydrotestosterone (DHT) induces a female to male sex reversal.
Among amphibians, most Caudata are atypical regarding sex differentiation because males possess two multiple testes: at least this is known in Salamandridae and Plethodontidae, two families representing 80% of Salamandroidea [4–18]. This means that in each gonad, several lobes develop successively during adult life. Among Salamandridae, the formation of these lobes has been studied in details in Salamandra salamandra [14]. In this species, the first testis lobe differentiates at the end of metamorphosis. The first typical spermatogenesis is observed during the third year of life: it takes place along the antero-posterior axis of the testis lobe. At the caudal part of the testis, cysts in which spermatozoa are eliminated in the efferent ducts undergo a transformation of their somatic cells: this leads to the formation of the glandular tissue which is a source of steroid hormones [19]. The glandular tissue will disappear and be replaced by small cysts containing primary spermatogonia. After a quiescent period, those cells divide to generate secondary spermatogonia leading to a second differentiated lobe that will appear at the age of 4 years at the caudal part of the testis [14]. In old males of Salamandra, one testis can contain up to 6 lobes.
Pleurodeles waltl
, the Iberian ribbed newt found in Portugal, Spain and Northwest Africa, is a member of the Salamandridae family. Larvae possess gills and live underwater until they metamorphose into air-breathing forms possessing lungs. Sex is determined genetically (ZZ sex chromosomes in males and ZW in females) and gonad development takes place mainly during larval life (Figure
1
) [
3
,
20
]. In this species, as mentioned above, sex differentiation can be modified by the environment since genetic female larvae reared at 32°C during a thermosensitive period differentiate into fertile ZW neomales (Figure
1
) [
21
]. Here we have taken advantage of molecular tools in order to follow both the germline and somatic cell line fates in the testis in larvae, in juveniles and in adults [
22
]. We report that testes are associated with the lungs. This feature appears late during larval development and arises from connective tissue containing embryonic germ cells. Like other Caudata, males of
Pleurodeles waltl
possess multiple testes which differentiate during adulthood. Our experiments show that the germ cells located in the anterior part of the testis are integrated progressively into the differentiated lobe to maintain spermatogenesis. Furthermore, these cells contribute to new testis formation following castration, a phenomenon stimulated by androgen treatment.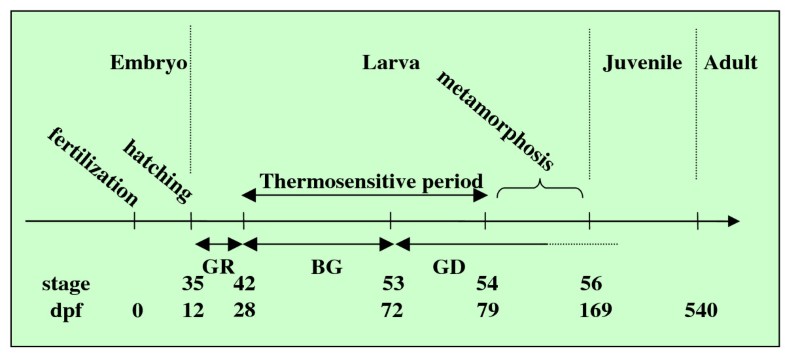 Methods
Animals
Pleurodeles waltl larvae and adults were reared in tap water at 20 ± 2°C. Animals were fed three times a week. For larvae, developmental stages were determined by macroscopic observation according to the Gallien and Durocher development timetable [23].
Sexual genotyping was performed by electrophoretic analysis of peptidase-1 from tail biopsies as described previously [24]. For juvenile and adults, the age of each animal used in the present study was indicated in months or years (post-fertilization).
Surgery and DHT treatments
A stock solution of benzocaine (Sigma-Aldrich, Saint-Quentin Fallavier, France) was prepared at 3% in absolute ethanol (w/v) and stored at 4°C. Animals were anaesthetized by immersion in water containing 1% (v/v) of this stock solution.
For operative procedures (either section between the posterior testis lobe and the undifferentiated anterior part or ablation of the first testis lobe), a 1.5 cm incision was made in the ventrolateral side of the abdomen and the testis was manipulated using sterile fine forceps and scissors. Animals were allowed to recover on moist paper for 24 hours. Then, they were placed in tanks containing 2 l of water supplemented or not with dihydrotestosterone (DHT). A stock solution of DHT was prepared in absolute ethanol (5 mg/ml) and stored at room temperature. For treatment, DHT was used at 400 μg/l whereas control males were exposed to ethanol. The water (with or without treatment) was renewed after each feeding.
Several months after surgery, animals were anaesthetized, sacrificed, gonads and lungs were subjected to a morphological examination before histology or molecular biology studies.
Histology and Immunohistochemistry
Tissues were fixed in Carnoy's solution, embedded in paraffin and sectioned at 7 μm. For histological studies, sections were stained with hematoxylin-eosin-light green. Proliferating Cell Nuclear Antigen (PCNA) detection was performed using the PC10 monoclonal antibody and the LSAB2 kit (both from Dako, Trappes, France) according to manufacturer's instructions.
For BromodeoxyUridine (BrdU) incorporation, BrdU (Sigma-Aldrich) was diluted at 1 mg/ml in Steinberg's solution and 1 ml was used for intraperitoneal injection per juvenile male. After 24 hours, the animals were anaesthetized with benzocaine and testes were harvested and fixed in Carnoy's solution. Once embedded in paraffin and sectioned at 7 μm, BrdU detection was performed using a monoclonal antibody (clone BU 33, Sigma-aldrich, Saint-Quentin Fallavier, France) according to manufacturer's instructions and the LSAB2 kit.
Preparations were analysed under white illumination on a Eclipse 80i microscope (Nikon, Champigny sur Marne, France). Images were collected using LuciaG software 4.81 (Laboratory imaging) which was also used to measure morphometric parameters on germ cells as well as testis cross sections. Nuclear parameters were the perimeter and the circularity index (4πarea/perimeter2). When circularity index = 1, nuclei are perfectly round. Cross section parameters were area and circularity index.
RT-PCR
The testis was separated into three parts: anterior (part linked to the lung), medium (between this anterior part and the first lobe) and posterior (the first differentiated lobe). Total RNA was extracted from each part using 200 μl of TRIzol reagent (Invitrogen Corp., Carlsbad, CA) and quantified. The detailed protocol for reverse transcription has been described previously [25]. Briefly, total RNA (1 μg) was reverse transcribed using hexamer random primers and 100 U Moloney murine leukemia virus reverse transcriptase (Invitrogen) in a total volume of 25 μL. A 2 μL aliquot of resultant cDNAs was used for PCR.
The amplification was performed with 0.5 U Taq DNA Polymerase (Invitrogen) in PCR buffer containing 25 mM of each deoxynucleotide triphosphate, 1.5 mM MgCl2 and 10 pmol of each primer in a total volume of 25 μL. Specific primers and conditions of amplification for GAPDH (Glyceraldehyde 3-phosphate dehydrogenase), VASA, DMRT1 (doublesex- and mab-3-related transcription factor 1) and DMC1 (disrupted meiotic cDNA 1) cDNAs have been described previously [22, 25]. PCR products were run in a 1% agarose gel containing 0.5 mg/L ethidium bromide.
Conclusion
Like other Caudata, Pleurodeles waltl constitutes an original gonochoristic vertebrate model in which testis differentiation is observed up to adulthood. Indeed, the differentiation of gonads at adulthood occurs mainly in hermaphroditic teleost fish which are either protandrous (e.g; gilthead seabream) or protogynous (e.g. honeycomb grouper) [51, 52]. Pleurodeles waltl might be used for the study of factors required to maintain primordial germ cells in adults as well as factors triggering their differentiation. This could shed light on the highly debated recent finding of germline stem cells in the mammalian ovary [53].
Declarations
Acknowledgements
We would like to thank M. Chillet, A. Kleinclauss and E. Bouvry for animal rearing and especially M. Chillet for excellent technical assistance in histology. We thank also Professor Simon Thornton for reading the manuscript. This work was performed using materials obtained with grants from the Ligue Contre le Cancer (Comités de la Meurthe et Moselle, de la Meuse et de la Haute-Marne), of the Association pour la Recherche sur le Cancer, of the Conseil Régional de Lorraine and of the Université Henri Poincaré.
Authors' Affiliations
(1)
EA 3442 Aspects cellulaires et moléculaires de la reproduction et du développement, Nancy-Université, Faculté des Sciences, Boulevard des Aiguillettes, Vandoeuvre-les-Nancy, France
Copyright
© Flament et al; licensee BioMed Central Ltd. 2009
This article is published under license to BioMed Central Ltd. This is an Open Access article distributed under the terms of the Creative Commons Attribution License (http://creativecommons.org/licenses/by/2.0), which permits unrestricted use, distribution, and reproduction in any medium, provided the original work is properly cited.