A critical period of progesterone withdrawal precedes menstruation in macaques
Reproductive Biology and Endocrinology
2006
4(Suppl 1):S6
Published: 9 October 2006
Abstract
Macaques are menstruating nonhuman primates that provide important animal models for studies of hormonal regulation in the uterus. In women and macaques the decline of progesterone (P) at the end of the cycle triggers endometrial expression of a variety of matrix metalloproteinase (MMP) enzymes that participate in tissue breakdown and menstrual sloughing. To determine the minimal duration of P withdrawal required to induce menses, we assessed the effects of adding P back at various time points after P withdrawal on both frank bleeding patterns and endometrial MMP expression. Artificial menstrual cycles were induced by treating the animals sequentially with implants releasing estradiol (E2) and progesterone (P). To assess bleeding patterns, P implants were removed at the end of a cycle and then added back at 12, 24, 30, 36, 40, 48, 60, or 72 hours (h) after the initial P withdrawal. Observational analysis of frank bleeding patterns showed that P replacement at 12 and 24 h blocked menses, replacement at 36 h reduced menses but replacement after 36 h failed to block menses. These data indicate that in macaques, a critical period of P withdrawal exists and lasts approximately 36 h. In other similarly cycled animals, we withdrew P and then added P back either during (12–24 h) or after (48 h) the critical period, removed the uterus 24 h after P add back and evaluated endometrial MMP expression. Immunocytochemistry showed that replacement of P during the critical period suppressed MMP-1, -2 and -3 expression along with menses, but replacement of P at 48 h, which failed to suppress mense, suppressed MMP-1 and MMP-3 but did not block MMP-2. We concluded that upregulation of MMPs is essential to menses induction, but that after the critical period, menses will occur even if some MMPs are experimentally blocked.
Keywords
Critical Period
Rhesus Macaque
Proliferative Phase
Perivascular Cell
Pigtailed Macaque
Review
Macaques are excellent models for the study of menstruation because, like women, they display 28-day menstrual cycles [1–3]. The macaque uterus, which is anatomically similar to the human uterus, has been morphologically characterized into well defined functional zones [4, 5]. In this classification, the surface epithelium and an underlying band of stromal cells was defined as Zone I. Zone II, slightly deeper, contains glands that run perpendicular to the surface. Deeper still, Zone III contains glands that are branched, and the deepest zone, Zone IV is the basal layer adjacent to the myometrium, where the glands terminate. Secretory differentiation occurs in Zone I-III, and these zones are frequently termed the endometrial functionalis; this is the zone that sloughs during menses. Artificial menstrual cycles can be induced in macaques by sequentially treating the animals with estradiol (E2) and progesterone (P) [6, 7]. In this model, treatment with E2 for 2 weeks induces an artificial proliferative phase and treatment for the next 2 weeks with E2 plus P induces an artificial secretory phase. Withdrawal of P at the end of the secretory phase completes the cycle and stimulates menstruation. We refer to the 3–4 day period after P withdrawal as the luteal-follicular transition (LFT) [8, 9].
In women and nonhuman primates the decline of P is followed by a cascade of endometrial events including increased expression of matrix metalloproteinase (MMP) enzymes [7, 10]. The MMPs are capable of degrading the extracellular matrix and play a role in the dissociation of tissues in the upper endometrial zones (Zone I-III) during menstruation [10–12]. Several studies report that P specifically inhibits MMP expression in human endometrial stromal cells in vivo and tissue explants in vitro [13–15]. Expression of MMP-1, -2, -3, -10, -11, and -14 in the rhesus macaque endometrium peaks on days 2–4 of the LFT, then declines spontaneously after menstruation during the proliferative phase of the cycle even though P is absent. Paradoxically, progesterone receptor (PR) consensus sequences have not been identified on the genes for these menstruation-associated MMPs. Therefore, P mediated regulation of endometrial MMPs appears to be indirect. Because of the focal nature of menstrual breakdown and the restriction of MMP expression to the mid and upper functionalis zones, it has been suggested that local factors such as specific cytokines mediate the effects of P withdrawal on the endometrium. For instance, TGF-beta has been identified as a mediator of MMP-7 suppression by P [16]. Also, endometrial bleeding associated factor (ebaf; lefty -A) has been identified as an inhibitor of TGF-beta B [17], and lefty-A can induce expression of several MMPs in human endometrial stromal cells. Because P can still suppress MMPs upregulated by lefty-A in vitro [18], the full mechanism through which P regulates endometrial MMPs remains to be clarified.
Kelly et al [19] have suggested that regulation of menstruation occurs in two phases. In the first phase, vasoconstriction and local cytokine expression are initiated by P withdrawal; this reaction is mediated through PR in the perivascular cells surrounding spiral arteries. Subsequently, various lytic events are initiated by leucocytes and other cells that lack PR. This hypothesis implies that the first, but not the second phase could be blocked by the readministration of P. In this view, P withdrawal is followed by a "critical period" after which, tissue breakdown, sloughing and bleeding become inevitable. Here we review these issues and expand on studies we previously reported [20] in which we added back P at various times after P withdrawal to assess the length of the critical period in macaques. Our results confirmed the view that there is a physiologically significant critical period underlying the menstrual process.
Conclusion
As summarized in Figure
9
, progesterone replacement during the first 36–48 hours of P withdrawal can suppress MMP expression and menstrual breakdown. After that critical period, menses becomes refractory to P add back. These results support the hypothesis originally proposed by Kelly et al [
19
] that menstrual induction consists of two separate phases. Our findings lay the groundwork for a much finer, time-based analysis of the cytokine-regulatory networks underlying the critical period. This sort of experimental analysis can be efficiently conducted in hormonally manipulated nonhuman primates, and a treasure trove of information awaits the use of modern methods of molecular biology to analyze such time-based data. Because disorders of uterine bleeding remain a major clinical problem and health burden, advances in our understanding of these processes have great potential to improve women's health.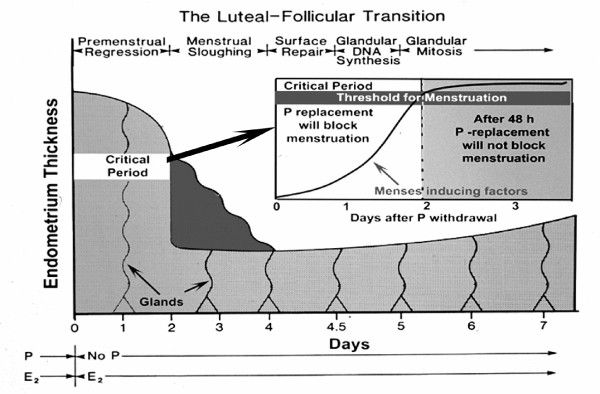 Declarations
Acknowledgements
We gratefully acknowledge the Animal Care Technicians in the Division of Laboratory Animal Medicine for care of the animals during these studies, and also the immunocytochemistry skills of Kunie Mah. This study was supported by NIH grants HD07675 (ODS), HD19182 (RMB), and RR00163.
This article has been published as part of Reproductive Biology and Endocrinology Volume 4, Supplement 1, 2006: Basic and applied biology of the primate reproductive tract: in honor of the career of Dr Robert M Brenner. The full contents of the supplement are available online at http://www.rbej.com/supplements/4/S1.
Authors' Affiliations
(1)
Division of Reproductive Sciences, Oregon National Primate Research Center, Oregon Health & Science University, Beaverton, USA
Copyright
© Slayden and Brenner; licensee BioMed Central Ltd. 2006
This article is published under license to BioMed Central Ltd. This is an open access article distributed under the terms of the Creative Commons Attribution License (http://creativecommons.org/licenses/by/2.0), which permits unrestricted use, distribution, and reproduction in any medium, provided the original work is properly cited.