Application of functional genomics to primate endometrium: insights into biological processes
Reproductive Biology and Endocrinology
2006
4(Suppl 1):S4
Published: 9 October 2006
Abstract
Endometrium is a dynamic tissue that responds on a cyclic basis to circulating levels of the ovarian-derived steroid hormones, estradiol and progesterone. Functional genomics has enabled a global approach to understanding gene regulation in whole endometrial tissue in the setting of a changing hormonal milieu. The proliferative phase of the cycle, under the influence of estradiol, has a preponderance of genes involved in DNA synthesis and cell cycle regulation. Interestingly, genes encoding ion channels and cell adhesion, as well as angiogenic factors, are also highly regulated in this phase of the cycle. After the LH surge, different gene expression profiles are uniquely observed in the early secretory, mid-secretory (window of implantation), and late secretory phases. The early secretory phase is notable for up-regulation of multiple genes and gene families involved in cellular metabolism, steroid hormone metabolism, as well as some secreted glycoproteins. The mid-secretory phase is characterized by multiple biological processes, including up-regulation of genes encoding secreted glycoproteins, immune response genes with a focus on innate immunity, and genes involved in detoxification mechanisms. In the late secretory phase, as the tissue prepares for desquamation, there is a marked up-regulation of an inflammatory response, along with matrix degrading enzymes, and genes involved in hemostasis, among others. This monograph reviews hormonal regulation of gene expression in this tissue and the molecular events occurring therein throughout the cycle derived from functional genomics analysis. It also highlights challenges encountered in using human endometrial tissue in translational research in this context.
Keywords
Leukemia Inhibitory Factor
Endometrial Tissue
Endometrial Biopsy
Human Endometrium
Abnormal Uterine Bleeding
Background
Human endometrium, the anatomic prerequisite for continuation of the species, is a dynamic tissue that responds to the circulating steroid hormones, estradiol (E
2
) and progesterone (P), throughout normal menstrual cycles (Figure
1
; and [
1
], review). The goals of orchestrated events in endometrium are to permit successful nidation of a conceptus, and in the absence of such, desquamation of the tissue and subsequent regeneration. While the window of implantation is a temporally and spatially defined time in the endometrial cycle in which blastocyst implantation can begin, events prior to it are critical in optimizing endometrial receptivity to embryonic implantation in this time frame. In the absence of implantation, orderly shedding of the tissue and hemostasis are essential to prevent morbidities of hypermenorrhea, menorrhagia and anemia ([
1
], review).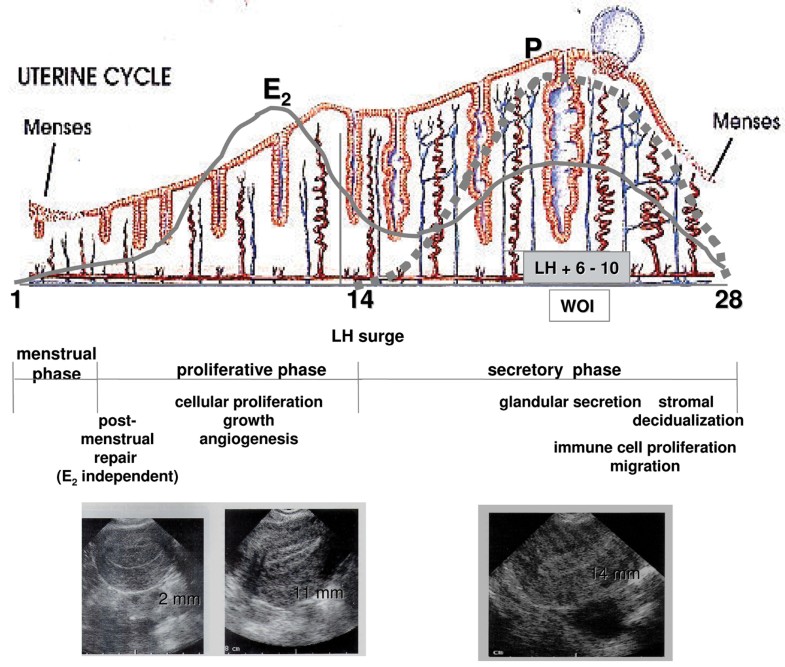 There are numerous approaches to assess endometrial function, including (a) direct observation through, e.g., hysteroscopy or gross examination of the tissue; (b) imaging techniques, including ultrasound and magnetic resonance imaging; and (c) endometrial biopsy or hysterectomy specimen tissue sections and (i) subsequent hematoxylin and eosin staining and/or immunohistochemical or in situ hybridization analysis for specific gene products and/or (ii) simultaneous analysis of multiple genes and gene products by array analyses for gene expression and proteins. The latter approaches (ii) have been relatively recent events, in contrast to histologic evaluation of cycle-dependent changes in endometrium, first described over half a century ago [2]. It should be noted that histology has been the classical approach for evaluation of adequacy of the endometrium for fertility and normalcy of the endometrium in clinical conditions of abnormal uterine bleeding, where, e.g., polyps, fibroids, and endometrial hyperplasia and/or cancer have been suspected. This type of evaluation is standard of care in the clinical setting where abnormal uterine bleeding or unusual findings on ultrasound or at hysteroscopy and hysterectomy have been made. However, recent studies have called into question the utility of the endometrial biopsy as a clinical tool for fertility evaluation and for research because there is significant inter- and intra-observer variability and histologic delay fails to discriminate between fertile and infertile couples [3]. Also, Murray and colleagues have demonstrated that histologic features fail to distinguish reliably specific menstrual cycle days or narrow intervals of days [4]. Furthermore, histology rarely gives insight into the molecular mechanisms occurring in the tissue throughout the cycle, which may be accomplished through molecular phenotyping. Questions that arise about molecular phenotyping of human endometrium include whether this approach can (a) distinguish among the phases of the cycle; (b) define receptivity to embryonic implantation; (c) identify a variety of endometrial disorders not apparent from histologic evaluation of the tissue; and (d) give insight into molecular events that occur dynamically throughout the cycle.
The genomic era has heralded a new approach for simultaneous analysis of genes and proteins in tissues, and this monograph describes gene expression studies performed on whole endometrial tissue in women and non-human primates. The major limitation of such studies is that gene transcription alone has been investigated in the absence of investigation into the corresponding proteome. The latter would not only confirm gene expression profiling, but also would give insight into proteins and protein modifications that participate in biological processes during the endometrial cycle. Furthermore, a proteomic approach would be welcome to detect changes in secreted proteins and soluble endometrial biomarkers across the cycle and in endometrial disorders. While elucidation of the genome has been an extraordinary accomplishment during the past decade, elucidation of the proteome, technologically even more challenging and expensive, must be conducted for a more accurate assessment of endometrial physiology and pathophysiology.
Summary
Microarray analyses have provided global inspection of the endometrium across the cycle and insight into the biological processes occurring therein. A schematic summary of this is presented in Figure
6
. It is likely that there are microenvironments in which some processes are occurring more than others, as proximity to vascularity and immune cells may affect endometrial cellular function and vice-versa. Remarkably in normally cycling women, there is a regularity of cycle length that persists cycle-to-cycle, with efficient tissue desquamation and self-limited bleeding. Abnormalities in cycle length and receptivity to embryonic implantation, as well as endometrial bleeding disorders and other endometrial pathologies likely reflect significant changes in endometrial gene expression and (dys)regulation. Microarray analyses reviewed herein are but the beginning of a compendium of genes identified in understanding the dynamic changes in morphology and function of the endometrium in health and disease. These approaches also offer the opportunity to identify abnormalities in endometrium (e.g., endometrial hyperplasia, cancer, endometriosis, endometrial polyps, and in the setting of hyperandrogenemia and hyperinsulinemia). Furthermore, they enable elucidation of the molecular basis of these, as well as morphometric changes in the endometrium accompanying, e.g., different types of ovarian stimulation for infertility treatment [
53
]. They also provide the opportunity to define molecular mechanisms predisposing to abnormal implantation and placentation resulting in, e.g., infertility, recurrent miscarriage and intrauterine fetal growth restriction. Importantly, gene expression profiling can be used to develop molecular diagnostics of endometrial normalcy and abnormalities and identifying molecular targets for therapeutic purposes in endometrial disorders.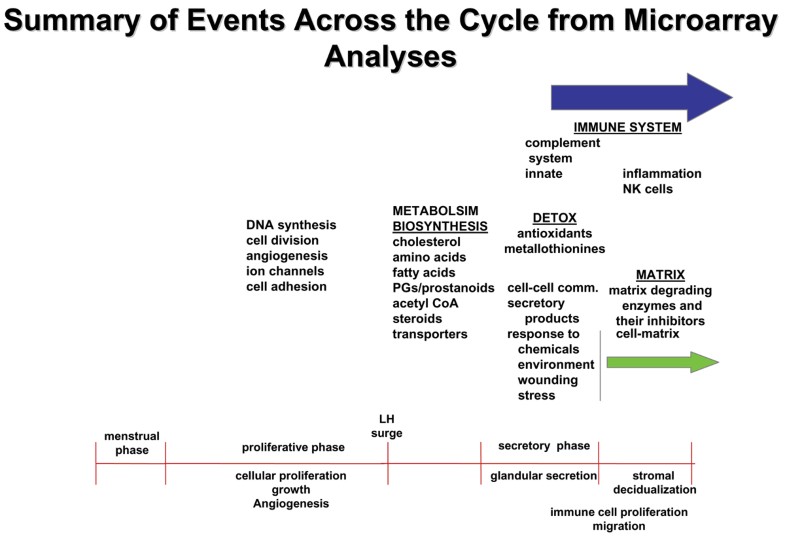 Declarations
Acknowledgements
This monograph is dedicated to Dr. Robert Brenner on the occasion of his retirement symposium in honor of his extraordinary investigative career that has contributed significantly to our understanding of the primate endometrium. Support was provided, in part, by the NIH Specialized Cooperative Centers Program in Reproduction Research HD #31398-09 (LCG).
This article has been published as part of Reproductive Biology and Endocrinology Volume 4, Supplement 1, 2006: Basic and applied biology of the primate reproductive tract: in honor of the career of Dr Robert M Brenner. The full contents of the supplement are available online at http://www.rbej.com/supplements/4/S1.
Authors' Affiliations
(1)
Department of Obstetrics, Gynecology and Reproductive Sciences,, University of California, San Francisco, 505 Parnassus, San Francisco, USA
Copyright
© Giudice; licensee BioMed Central Ltd. 2006
This article is published under license to BioMed Central Ltd. This is an open access article distributed under the terms of the Creative Commons Attribution License (http://creativecommons.org/licenses/by/2.0), which permits unrestricted use, distribution, and reproduction in any medium, provided the original work is properly cited.