Cellular and molecular regulation of the primate endometrium: a perspective
Reproductive Biology and Endocrinology
2006
4(Suppl 1):S3
Published: 9 October 2006
Abstract
This contribution will trace some of the many seminal studies on the female uterus (endometrium) over the centuries and conclude with a description of some current research initiatives in our laboratory. Numerous contributions from many investigators over the years have contributed to our current understanding of endometrial function. The historical section of this chapter is intended to be a brief overall description of some of these efforts and not exhaustive. Additional information can be found in the review articles and books cited herein.
Keywords
Estrogen Receptor
Menstrual Cycle
Rhesus Monkey
Corpus Luteum
Differential Display
Early History
For many centuries studies on the uterus were hampered by both religion and law. Early physicians were forbidden to dissect human bodies and as such their understanding of the female reproductive system was founded on their knowledge of domestic animals [1]. There is, however, some anecdotal evidence from Strabo that the ancient Egyptians (B.C.) performed ovariotomies (ovariectomies) on human females [2] although this did not apparently impact knowledge of uterine form or function. In the fourth century B.C. Greece, the Hippocratic Corpus represented in large part the beginning of modern medicine (Hippocrates, 460–377 B.C., Father of Medicine). In this work the uterus is described as a number of cavities and horns with no mention of tubes or ovaries. Only the external portions of the female reproductive tract were clearly, carefully, and accurately described. Also during this period, Aristotle described the uterus (in his writings, no drawings available) as a bicornuate structure based on his knowledge of domestic animals e.g. cow.
Although the concept of the uterus as a bicornuate structure (Herophilus of Chalcedon and Rufus of Ephesus) continued during the early Christian era, both the uterine tubes and ovary (unknown function) were identified as separate structures. Rufus also described the "fundus" of the uterus. During this period some limited dissection of human bodies i.e. executed criminals was allowed for a limited time in Alexandria. During this same period Soranus of Ephesus incorporated his anatomical studies of the uterus along with extensive clinical discussion in his great work
Gynecology
(early second century A.D.) which influenced future physicians and investigators into the sixteenth century. Although no drawings were included in this work, a latter manuscript in the ninth century included the earliest surviving sketch of the uterus based on the studies of Soranus (Fig.
1
). This representation of the uterus does contain some modern names such as fundus although Soranus supported Aristotle's view that the uterus contained cotyledons that accommodated intrauterine fetal nutrition. Soranus' work represented an advanced understanding of female reproductive anatomy, although he maintained, with his predecessors, that the ovary was a female testis. This latter concept was continued for centuries (until the seventeenth century).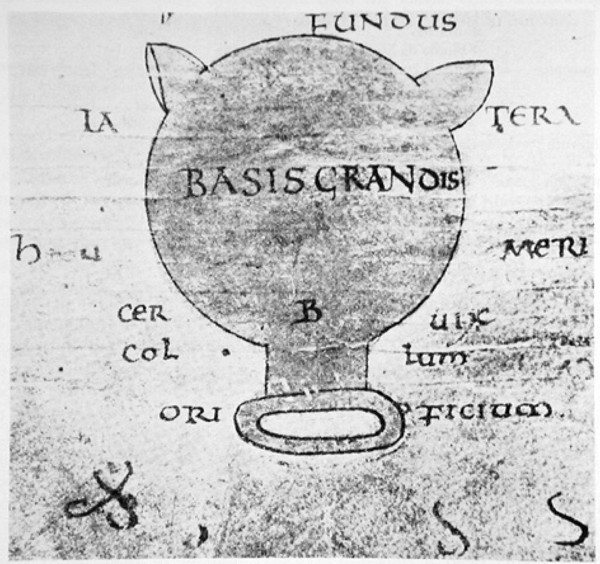 Rome became the next center for medical and scientific studies on the human. Galen (130–200 A.D.) was the central figure in this effort. His contributions to uterine anatomy and function were minimal and based primarily on the previous work and opinions of Rufus and Aristotle. Of interest is that Galen did study monkeys. Galen's impact as an authority on medical knowledge and practice was enormous and influenced medicine throughout the Middle Ages. During these Dark Ages (lasting through the next millennium) medical and scientific studies on the anatomy and physiology of the uterus were scant. Knowledge in this area relied on the interpretation of past writings and previous opinions which were most often incorrect.
The 15
th
century heralded the Renaissance and a resurgence of medical investigation guided by sound principles of scientific inquiry rather than just opinion and reinterpretation. Human dissection became accepted and the plethora of talented artists and illustrators during this period provided an outstanding resource for documentation of the anatomical characteristics of the uterus and other organs. Fig.
2
, a drawing by Leonardo da Vinci that depicts an opened uterus with a fetus in situ, illustrates this marvelous connection between scientific inquiry and artistic documentation. Both the placenta and a coil of the umbilical cord can be seen in this drawing.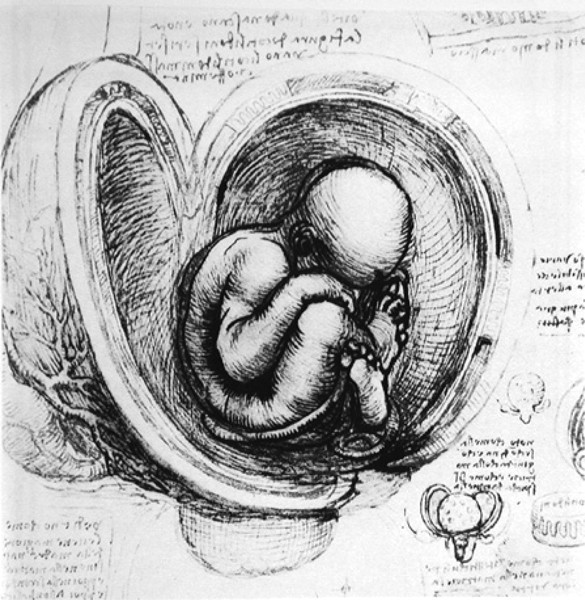 During this period Vesalius stood as the world's premier anatomist with his publication of De humani corporis fabrica in 1543. His work is widely regarded as revolutionary in anatomical science. He studied the uterus and corrected and added important modifications to its anatomy. These important observations included: it contains a single cavity; and included both muscular and decidual layers. In his treatise Fabrica, Vesalius first used the terms uterus and pelvis! His most famous student was Fallopio of Modena who coined the term corpus luteum (previously ovarian humor) and is perhaps best known for the designation, "fallopian" tubes.
Recent History
The development of the compound microscope, tissue fixatives and stains coupled with access to human female reproductive tissues dramatically improved our understanding of the anatomy and cellular composition of the uterus over the next several centuries. During this period much advancement was made in the understanding that "internal secretions" and chemical mediators (messengers) played major roles in the regulation of internal organs. The hypotheses and evidence for the existence of these factors became accepted. In his Croonian lecture in 1905 at the Royal College of Physicians, "On the Chemical Correlation of the Functions of the Body", Professor Ernest H. Starling first used the word 'hormone' (from the Greek, meaning to excite or arouse) to describe these chemical messengers [2].
The above immunohistochemical approaches allowed the identification of potential estrogen responsive cells versus unresponsive cells in a variety of tissues that contain heterogeneous cell populations and were not amenable to steroid binding assays. For example, this approach has been applied clinically as a diagnostic tool, specifically breast cancer biopsy specimens, to help identify estrogen responsive cells/tumors [42–44]. In the following years antibodies to the progesterone receptor became widely available and spawned a number of studies on the human and primate endometrium [36, 39, 41, 45–47].
New Initiatives and Approaches
There are a number of approaches that have been used in the past to describe and analyze the hormonal influences and mechanisms that govern primate endometrial responses. These have included: gross anatomy, morphology, and histology; hormonal manipulation; steroid binding assays; immunohistochemical analyses (see above). Transmission and scanning electron microscopy as well as ultrasound have also been used to study uterine (endometrial) structure [14, 50–52]. A number of new and powerful cellular and molecular techniques have recently been added to our arsenal of approaches to study tissue and cell-type gene and protein expression. These include: PCR analysis of gene expression; differential display; gene microarray analyses; laser capture microdissection; and proteomic analysis. Our laboratory has recently embarked on new studies of the rhesus monkey endometrium with several of these molecular approaches and we present some of our recent work below.
Conclusion
This chapter has attempted to provide an historical perspective on the progress of our knowledge of the primate endometrium. This account and the early and recent historical citations echo the truism that all of us as investigators learn from and "stand on the shoulders" of those who have preceded us. Although ideas and concepts have, for the most part, driven our scientific inquiry, some "opinions" do not easily fall out of favor e.g. female testes and will continue to require our vigilant scrutiny. Some new approaches that have been developed and used to investigate the primate endometrium have also been noted. The applications of these tools and others yet to be developed will allow our ideas and hypotheses to be tested and lead us down new pathways of discovery and knowledge.
Declarations
Acknowledgements
The author thanks Drs. C. Longcope and C.I. Ace and Charlene Franz for their help and support of this work. This work was supported in part by a grant from the NICHD (HD-31520, WCO).
This article has been published as part of Reproductive Biology and Endocrinology Volume 4, Supplement 1, 2006: Basic and applied biology of the primate reproductive tract: in honor of the career of Dr Robert M Brenner. The full contents of the supplement are available online at http://www.rbej.com/supplements/4/S1.
Authors' Affiliations
(1)
Department of Physiology,, UMass Medical School, N., Worcester, USA
Copyright
© Okulicz; licensee BioMed Central Ltd. 2006
This article is published under license to BioMed Central Ltd. This is an open access article distributed under the terms of the Creative Commons Attribution License (http://creativecommons.org/licenses/by/2.0), which permits unrestricted use, distribution, and reproduction in any medium, provided the original work is properly cited.