Progress toward generating a ferret model of cystic fibrosis by somatic cell nuclear transfer
Reproductive Biology and Endocrinology
2003
1:83
Received: 11 July 2003
Accepted: 07 November 2003
Published: 07 November 2003
Abstract
Mammalian cloning by nuclear transfer from somatic cells has created new opportunities to generate animal models of genetic diseases in species other than mice. Although genetic mouse models play a critical role in basic and applied research for numerous diseases, often mouse models do not adequately reproduce the human disease phenotype. Cystic fibrosis (CF) is one such disease. Targeted ablation of the cystic fibrosis transmembrane conductance regulator (CFTR) gene in mice does not adequately replicate spontaneous bacterial infections observed in the human CF lung. Hence, several laboratories are pursuing alternative animal models of CF in larger species such as the pig, sheep, rabbits, and ferrets. Our laboratory has focused on developing the ferret as a CF animal model. Over the past few years, we have investigated several experimental parameters required for gene targeting and nuclear transfer (NT) cloning in the ferret using somatic cells. In this review, we will discuss our progress and the hurdles to NT cloning and gene-targeting that accompany efforts to generate animal models of genetic diseases in species such as the ferret.
Keywords
Cystic FibrosisCystic Fibrosis Transmembrane Conductance RegulatorNuclear TransferClonal Cell LineFetal Fibroblast
Introduction
Until recently, the generation of gene-targeted animal models has primarily relied upon homologous recombination following direct introduction of transgenes into embryonic stem cells (ES cells). While this technique has been successful for animal modeling in the mouse, it has thus far proven significantly more difficult in larger species. To date, the most exciting and promising research in transgenesis involves the use of fetal and adult somatic cells to produce genetically identical animals through nuclear transplantation [
1
,
2
]. Successful production of cloned animals derived from somatic cells was first demonstrated in sheep [
3
,
4
] and has more recently been demonstrated in mice [
5
], cattle [
6
], goats [
7
], pigs [
8
], cats [
9
], rabbits, [
10
] and mules [
11
]. Transgenic calves [
12
], gene-targeted sheep [
13
], and α-1,3-galactosyltransferase knockout pigs [
14
,
15
] have also been obtained by nuclear transfer from somatic cells. These successes have made animal modeling using nuclear transfer in less-studied species, such as the ferret, more feasible. Since somatic cell nuclear donors can be easily maintained
in vitro
and readily targeted for gene mutations, somatic cell-based embryo cloning is undoubtedly the future method of choice for generating genetically modified larger animals. Two major steps are required to clone genetically defined animals (Figure
1
). First, gene targeting must be achieved in a somatic cell type appropriate for nuclear cloning, and karyotypically normal clonal cell lines must be isolated. Second, the nucleus from the mutant somatic cell must be used to reprogram enucleated recipient oocytes. The reconstructed embryos must then be implanted in foster mothers to generate cloned genetically defined animals.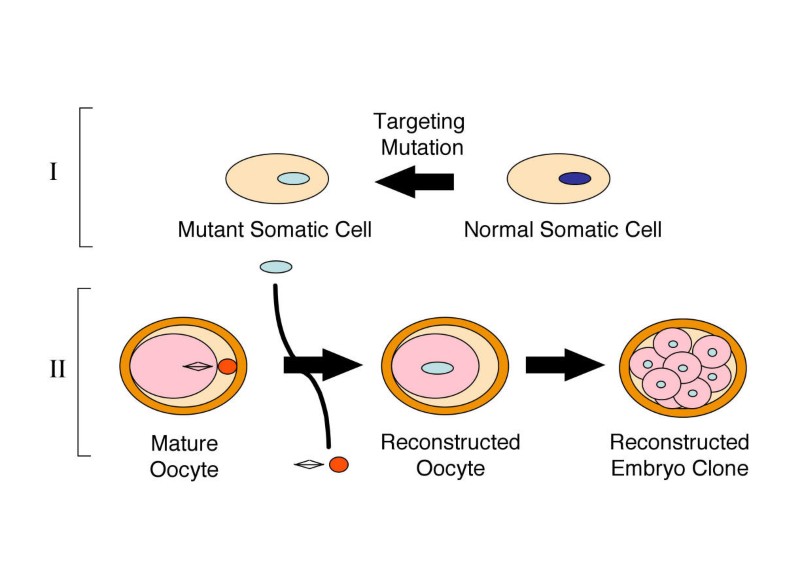 CF is a recessive inherited genetic disease in the Caucasian population, with a frequency of about 1 in 3,000 newborns [16]. CF is caused by a defect in an epithelial chloride channel called the cystic fibrosis transmembrane conductance regulator (CFTR) [16]. CF patients suffer from recurrent bacterial infection in the lung, leading to bronchiectasis, compromised lung function, and ultimately death. Substantial efforts have been made to generate mouse models capable of reproducing the lung pathology seen in CF patients. However, due to differences in lung biology between mice and humans, CFTR-deficient and mutant mice do not develop spontaneous lung disease as seen in humans [17, 18]. This lack of appropriate CF animal models has hindered progress in the development and testing of therapies for this disease.
The domestic ferret, Mustela Putorius Furos, has proven to be an excellent animal model for studying CFTR lung biology. Several aspects of ferret lung biology make this species an attractive model for CF lung disease. First, in contrast to mice, the ferret has marked similarities to humans in terms of lung physiology, airway morphology, and cell types [19–24]. Second, the expression of CFTR in the ferret airway epithelium and submucosal glands is identical to that in humans [25, 26]. Third, amino acid identity between ferret and human nucleotide binding domain 1 (NBD1) of CFTR is a striking 97% [25], which is just as high as for non-human primates (96%, Macaca nemestrina) and is significantly higher than for rodents (80%, rat and mouse). Fourth, the ferret had been a useful model for viral and bacterial lung infections seen in humans [27–32]. Lastly, the ferret, with a gestation period of 42 days and 6 months to sexual maturity, has obvious advantages over larger species for animal modeling.
Strategy and Progress in Cloning a CF Ferret
Unlike sheep and cattle, for which NT cloning procedures are well established, cloning in the ferret presents numerous challenges since experimental parameters for embryo manipulation have not been defined. Over the past few years, several of the critical steps required for NT cloning in the ferret have been established [
33
–
35
]. This review will focus on progress in the various steps highlighted in Figure
2
. Furthermore, we will discuss approaches currently under investigation to facilitate efficient gene targeting in somatic cells, a process required to ultimately clone a CF ferret.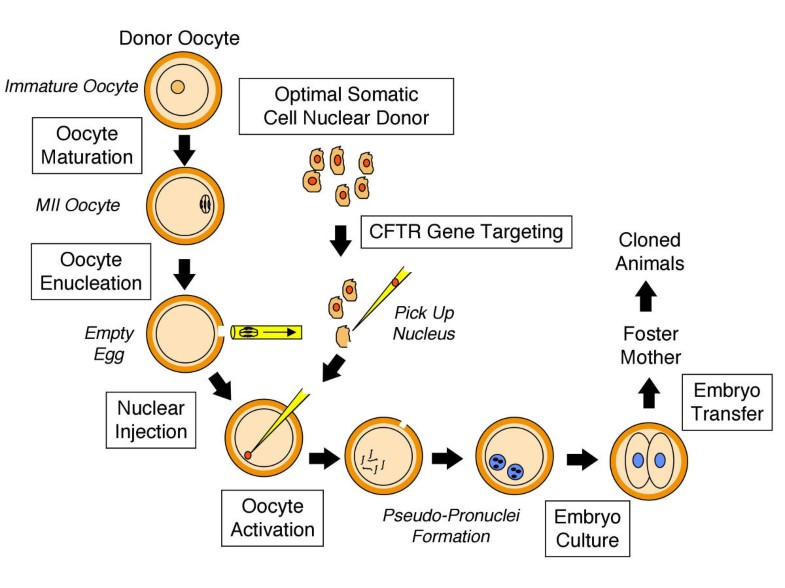 Future Challenges in Mammalian Cloning of Genetic Disease Models
Mammalian cloning has been accomplished in several mammalian species by nuclear transfer of somatic cells. However, widespread use of this technology has been limited due to low efficiencies of cloning to live births. At present, cloning efficiency – as determined by the proportion of live offspring developed from all oocytes that receive donor cell nuclei – is no more than 3%, regardless of the developmental age of the donor cell or the type of cell used [42].
The low efficiency associated with cloning may be attributed to many factors that are not fully understood, such as the oocyte-donor cell interaction [3], the stage of the donor cell cycle [4, 43–46], the type of donor cell used [47, 48], and inappropriate or incomplete nuclear reprogramming following nuclear transfer [49, 50]. In addition, technical skill greatly contributes to the cloning success rate. Even the slightest damage to the donor cell (cytoplasm and/or nucleus) may render the nuclei incapable of participating in normal embryo development.
Changes in DNA methylation patterns may also account for the low efficiency of present cloning approaches. DNA methylation is highly dynamic in cleavage-stage embryos of a number of mammalian species. Failure to properly recapitulate pre-implantation DNA methylation patterns in embryos derived by nuclear transfer may contribute to the low efficiency of nuclear transfer in producing live offspring [49]. It is natural to speculate that oocyte cytoplasm has 'special ingredients' that reprogram epigenetic imprinting from the somatic state to the zygotic state. Attempts to increase the efficiency of cloning by increasing the exposure time of donor nuclei to the oocyte's cytoplasm have met with some, though by no means dramatic success [45, 51–53]. It was also somewhat surprising that using the so-called 'totipotent' ES cells for cloning was not as successful as expected [54, 55]. However, more recent studies using out-bred F1 ES cell lines have demonstrated higher efficiencies in reconstructing oocytes capable of developing to live-born pups and increasing post-natal survival [56].
In conclusion, although mammalian cloning is still in its infancy, it is likely to change the face of animal modeling in the near future. As new methods for embryo manipulation and NT cloning merge with highly efficient gene targeting approaches, the ability to generate innovative larger animal models of genetic disease will significantly increase. Such efforts will greatly benefit the field of molecular medicine.
Declarations
Acknowledgments
We gratefully acknowledge the editorial assistance of Leah Williams and NIDDK (DK47967/JFE), NHLBI (HL61234/MJW), and CFF research funding for the author's laboratory in the area of this review.
Authors' Affiliations
(1)
Department of Anatomy & Cell Biology, College of Medicine, University of Iowa, Iowa City, USA
(2)
Department of Internal Medicine, College of Medicine, University of Iowa, Iowa City, USA
(3)
The Center for Gene Therapy of Cystic Fibrosis and Other Genetic Diseases, College of Medicine, University of Iowa, Iowa City, USA
Copyright
© Li and Engelhardt; licensee BioMed Central Ltd. 2003
This article is published under license to BioMed Central Ltd. This is an Open Access article: verbatim copying and redistribution of this article are permitted in all media for any purpose, provided this notice is preserved along with the article's original URL.